AUDIO: Ryan Seacrest Talks Ellen's Exit From American Idol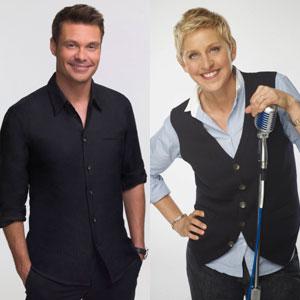 American Idol host Ryan Seacrest bid a fond farewell to departing judge Ellen DeGeneres on his KIIS-FM radio station Friday, just a day after DeGeneres quit the show after only one season, saying it wasn't the right fit for her.
"I'm sad that she's not gonna be on the show, but happy for her if this is what she wants to do ... we will miss Ellen DeGeneres, we love Ellen DeGeneres, and its not like she needs to work, right?" Seacrest said in an audio excerpt we have for you right here on RadarOnline.com.
Article continues below advertisement
Seacrest did not comment on reports that Idol judge Kara DioGuardio had been fired.
In a statement put out by DeGeneres on Thursday, she said factors in her leaving included that the show wasn't the "right fit," her work schedule was overloaded and she didn't have the mean streak needed to tell someone they couldn't cut it.
Report: Jennifer Lopez Is The New American Idol Judge!
"I also realized this season that while I love discovering, supporting and nurturing young talent, it was hard for me to judge people and sometimes hurt their feelings," DeGeneres said in the statement.