PHOTOS: Angelina Jolie Opens Salt In Moscow Minus Real Spy Anna Chapman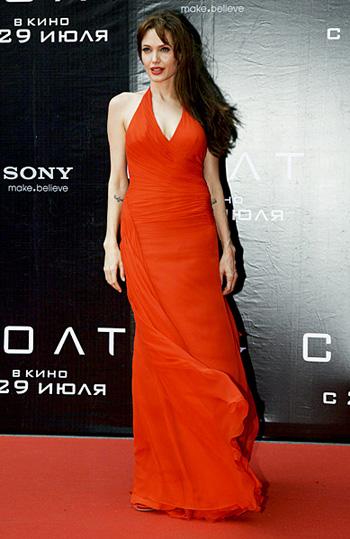 Even Angelina Jolie can't always get what she wants.
The star of Salt personally requested the presence of infamous Russian spy Anna Chapman at the film's Moscow premiere, but there was no sign of the sexy double agent at Saturday night's fete.
Angelina -- who plays a suspected Russian spy in her new flick -- asked local promoters to invite the real-life femme fatale because the film's story parallels Anna's recently revealed real-life drama.
Article continues below advertisement
"It's a personal request" from Angelina to get Chapman to the premiere, Moscow promoter Igor Dubinin revealed. "We'll do everything possible."
But unfortunately Anna, who was deported back to Russia July 8, was untraceable in spite of Dubinin's best efforts to locate her.
The admitted spy, who'd been caught up in an FBI sweep in NY, was reportedly being interrogated and debriefed at an undisclosed government compound in Moscow.
While Angelina may have been disappointed she still looked as ravishing in red the premiere.