VIDEO: Angelina Jolie Dishes About Injury On Salt Set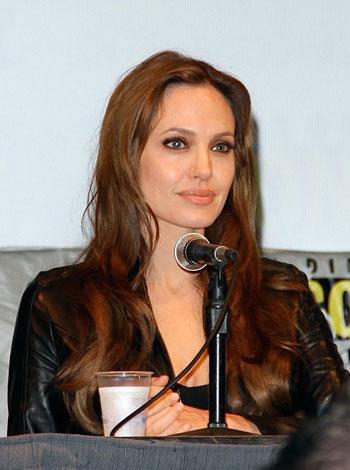 A whopping 6,500 fans waited for hours and packed the San Diego Convention Hall on Thursday to get a glimpse of their favorite action actress at the 2010 Comic Con International. Angelina Jolie talked about doing her own stunts in her new movie Salt-including discussing the one that left her bleeding!
At the panel discussion alongside her co-star Liev Schrieber, producer Lorenzo di Bonaventura and director Phillip Noyce, a glowing and animated Angelina interacted with the audience during the Q&A session.
Article continues below advertisement
Angie was more than happy to oblige her fans, waving to the crowd, smiling and even playfully revealing the similarities between her and her character.
"This character had a damaged life and is a little off... But I'm a little off too!" laughed Angelina of her CIA agent character Evelyn Salt.
The movie highlights Angelina in action. While the actress enjoyed doing her own stunts, one nearly gave her a concussion!
"It was an easy stunt-I jump into the doorway, get on the ground and roll away and I rolled right into a desk and cut my head and was bleeding," she told the audience. "All of a sudden I couldn't hear. It was a little weird and I thought I had a concussion. But then I just realized I hadn't taken my earplugs out."
And her other half-Brad Pitt-wasn't too far away. Earlier in the day, Pitt's co-stars his new animated film Megamind brought him along-literally!
Tina Fey, Will Ferrell (dressed in character as Megamind), and Jonah Hill toted a cardboard cutout of the hunky actor.
Brad did have six good reasons not to be there.
"Sorry, Angelina's here," director Tom McGrath told the audience, "So Brad had to be at home with the kids."