10 Russian Spies Plead Guilty, Being Deported In Exchange For 4 U.S. Prisoners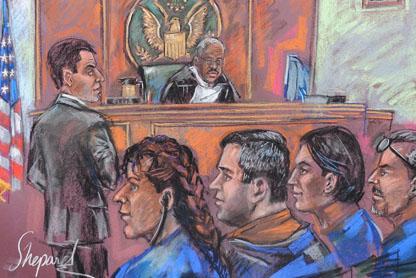 Ten of the 11 suspected Russian spies pled guilty today in a New York courtroom and will be immediately deported back to Russia. As part of an exchange, four United States prisoners being held in Russia will be returned, RadarOnline.com has learned.
A plea agreement was made Thursday between Russia and the United States, facilitated by U.S. District Judge Kimba M. Wood.
A letter from the Justice Department spelled out the agreement to Wood. "The Russian Federation has agreed to release four individuals incarcerated in Russia for alleged contact with Western intelligence agencies.
Article continues below advertisement
"Three of the Russian prisoners were convicted of treason in the form of espionage on behalf of a foreign power and are servicing lengthy prison terms.
"The Russian prisoners have all served a number of years in prison and some are in poor health. The Russian government has agreed to release the Russian prisoners and their family members for resettlement."
The 11th of the 10 suspected Russian spies was originally detained in Cyprus, New York, but released on bail. His whereabouts are unknown.
In an indictment from the FBI, the agency claims to have intercepted a message exposing the Russian spy ring leading their arrests stating, "You were sent to the USA for long-term service trip. Your education, your bank accounts, car, house, etc – all these serve one goal; fulfill your main mission, i.e. to search and develop ties in policymaking circles in US and send intels (intelligence reports) to C (Center)."