VIDEO: Gary Coleman's Wife: "I Would Take My Own Life Before Harming Him"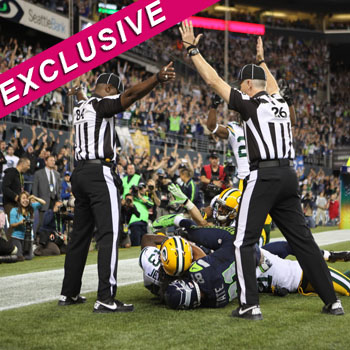 The controversy over Gary Coleman's death continues, with his ex-wife Shannon Price defending her actions and claiming in a new interview that she would take her own life before harming him.
She also gave some details for the first time the circumstances surrounding how the Diff'rent Strokes actor hit his head – the accident that caused his intracranial hemorrhage.
Asked what she had to say in response to people who believe she pushed Gary, Price said: "I would never hurt my husband ever. I would take my own life before I would harm him." Price made her comments to ABC's Good Morning America in an interview taped Sunday and aired Monday.
Article continues below advertisement
She also revealed this about the events leading up to Gary's fall: "I asked him if he could make me some food and he went downstairs and I heard this big smack. I rushed down there and found him lying in a pool of blood."
Other highlights include Price claiming the couple had a "golden" relationship and that they were going to get remarried, even though they were secretly divorced.
As ABC played the 911 tape, which you can listen to here on RadarOnline.com, Price is heard saying: "I can't be here with the blood…I got blood on myself. I can't deal."
While those words seem to contradict the impression of the loving wife she is presenting in her new interview, Price explained: "You know I was with him the whole time. I was trying to find towels, stuff like that.
"Seeing him in a pool of blood was difficult. If it was somebody else in my situation I'm sure they wouldn't know what to do either."
EXCLUSIVE: Gary Coleman's Parents Withdraw Court Battle Over Body
Article continues below advertisement
Price also defended her decision to take Gary off life support. "The doctors advised me it was grim," she told GMA.
And about their secret divorce, Price contended: "We just had a disagreement and after we both filed and it went through we decided it wasn't the right choice.
Executor Of Gary Coleman's Will Takes Over, Tells Wife: "You Have No Authority"
"We were going to renew our vows soon but our health issues got in the way. Every couple has their moments and yeah we had a lot of disagreements.
"We loved each other. It was golden.
"He was always my husband regardless of the divorce and what people say."
EXCLUSIVE: The Man Gary Coleman Tried 'To Kill' Speaks: My Heart Goes Out To His Wife
A tape-recorded interview of Gary from three weeks ago may be his final interview and his words were haunting.
"Celebrity is always a burden," Coleman says. "You are stuck with it for life. You can't get rid of it. You are going to die a celebrity even if you hadn't worked in 20 years.
VIDEO: Coleman And His Wife Discuss Their Crazy Fights
"There are definitely some enemies in my life I definitely would wish celebrity on."
Price was in a wheelchair during her TV interview and says she suffers from seizures. She says she is having financial problems and said she can't life without Gary.
"I just hope Gary's happy. He's in a better place and not suffering anymore," she told ABC.