Exclusive
EXCLUSIVE VIDEO: Spike TV Awards Celebrate Hollywood Hotness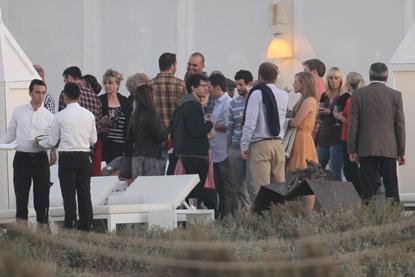 The Spike TV 4th Annual Guys Choice Awards took place Saturday night and RadarOnline.com was on the red carpet with some of the hottest stars in Hollywood.
Presenter and Victoria's Secret beauty Marisa Miller graced the guys with her presence on the carpet and claimed "there's some pretty amazing men here." Her choice for "Guy of the Year" was two-time Olympic gold medalist Shaun White.
Article continues below advertisement
A flattered and flustered White repaid Miller the favor and named her his choice for "Holy Grail of Hot." White claimed it hard to find words to describe Miller's hotness and that he values a classy looking girl that has something cool to say.
Actor Terry Crews confidently declared actresses Halle Berry and Paula Patton were on the top of his hot list, with his very understanding wife Rebecca by his side. He went on to claim "people like that Megan Fox is kinda hot and she's kinda mean looking to me."
When asked what qualities makes a woman hot, Academy Award winner Adrien Brody listed off a sense of humor, self-confidence, having a vibe together, and intelligence.
The awards handed at the evening's ceremony ranged from "Biggest Ass Kicker" to "Hotter Than Hell" and included nominees such as George Clooney, Scarlett Johansson, Robert Downing Jr, Jessica Biel, and Zoe Saldana. The special airs on Spike TV June 20, 10P/9C.