Exclusive
EXCLUSIVE VIDEO INTERVIEW: Twilight's Tyson Houseman Says Rob Pattinson And Taylor Lautner "Have Nothing On Him"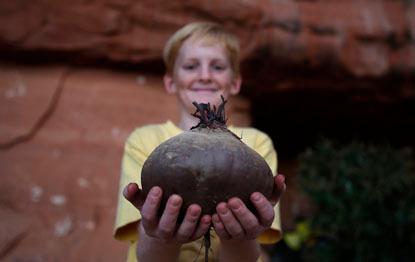 There are a few things all of the actors who are in the Twilight Wolf Pack have in common - they have Native Tribe backgrounds and they are all pretty hot. Tyson Houseman, who plays Quil in the Twilight Saga, fulfills those requirements and spent two and a half months getting in shape for the films.
In an exclusive video interview with RadarOnline.com Tyson talked about his Wolf Pack training workouts and even bragged about being in better shape than his co-stars. "Rob and Taylor, they've got nothing on me," Tyson joked.
Article continues below advertisement
Watch the video on RadarOnline.com
A Vancouver native, Tyson is an avid surfer and RadarOnline.com spent the day with him at the Quiksilver store at The Grove, a trendy shopping outdoor center in Los Angeles, where store manager Karla Lumsden, a Twilight fan, helped him get set with new summer gear.
As he tried on the latest in cool surf clothes, Tyson talked about filming in Vancouver in the cooler weather. "During the fall months it was pretty cold. Being in just shorts in the cold weather it's kind of freezing," he lamented about the shooting locations. "It really bothered us; we all had to huddle to keep warm." And was it a competition? "I'm the best snuggler out of the Wolf Pack," Tyson revealed.
EXCLUSIVE VIDEO INTERVIEW: Twilight Eclipse Star Julia Jones
The intriguing story line for Tyson's character Quil Ateara is when he imprints on a 2-year-old, which he admitted to RadarOnline.com "sounds kind of creepy but it's not." Without revealing too many details of the film he said "they do a good job of explaining in Eclipse what it means. It's kind of love at first sight."
Check out Tyson in The Twilight Saga: Eclipse when it hits theaters on June 30 and watch his transformation into a wolf and see the love triangle between Kristen Stewart, Rob Pattinson and Taylor Lautner intensify and the wolves and the vampires join forces in an epic battle.