'The View' Cast In Crisis! Whoopi Goldberg Becomes Daytime Diva As Nurse Miss Colorado Declines To Appear On Show After Being Mocked By Co-Hosts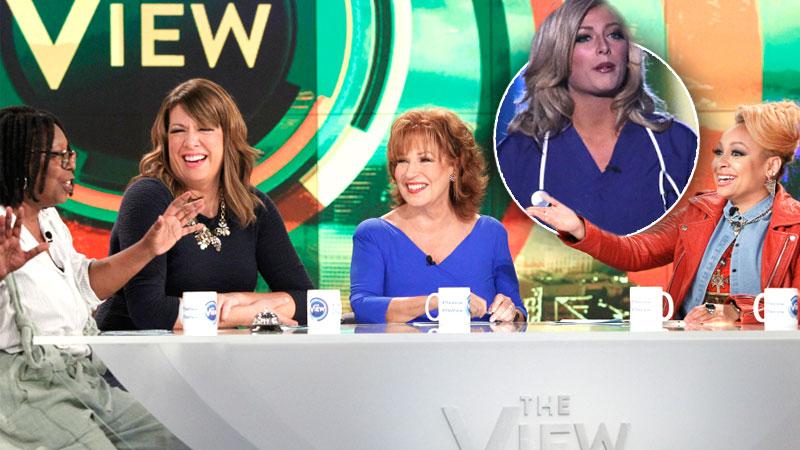 The ongoing drama with The View continues as Miss Colorado, Kelley Johnson, the nurse that was mocked by Joy Behar and Michelle Collins for her monologue at the Miss America pageant, has declined an invitation to appear on the show as Whoopi Goldberg continues to be a diva on the set, demanding final approval of staff members.
The intensive care nurse performed a heartfelt monologue about a patient dealing with Alzheimers during the talent portion of the Miss America show on Sunday night.
Article continues below advertisement
The View quickly tried to book Johnson as a guest but has been told "Kelley won't be immediately available. Everyone was surprised because the show was offering her a free trip to New York City with airfare and hotel paid for. Joy and Michelle want to personally apologize to her off camera. Producers are hoping Kelley changes her mind,"a source told RadarOnline.com.
On Monday, Behar and Collins made demeaning comments about Johnson's performance.
"...She came in in a nurse's uniform, and basically read her emails out loud," Collins said.
"Why does she have a doctor's stethoscope on?" fellow co-host Joy Behar asked.
The remarks immediately caused backlash from the healthcare profession, and the hashtag #NursesUnite began trending on social media.
The co-hosts offered a hasty apology on Tuesday with Behar saying, "I was looking at a Miss America tape, and there's a woman wearing an outfit with a stethoscope, and I'm thinking is she in a costume? I didn't know she was a nurse. I'm used to seeing them in gowns and bathing suits. It's not like I was trying to be funny. It was just stupid and inattentive on my part. I didn't know what the hell I was talking about. My son-in-law is a physician assistant, one of my nieces is a nurse, so I mean I know they use stethoscopes, I just was not paying attention."
Goldberg appeared to throw Collins and Behar under the bus by saying "I wasn't here" when the comments about Johnson were made.
But the diva behavior with Goldberg has "now reached epic levels because she is demanding to have a final say in new hires for the show. Whoopi would do the show on her own if she could....The set is very tense because no one wants to upset Whoopi," the source added.
What do you think about the latest drama for The View? Sound off in comments below.