Exclusive
The Battle Over Bill! ABC Execs Pressured Whoopi To Renounce Cosby On Air After Growing Fan Criticism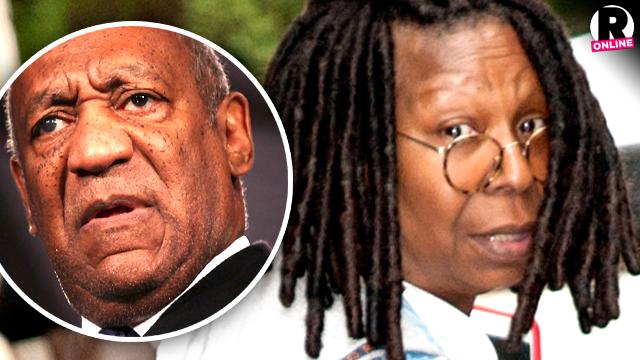 Bill Cosby's supporters are dropping like flies following the revelation that he admitted in a 2005 deposition to buying Quaaludes to have sex with women. Singer Jill Scott recently announced she was renouncing him earlier this month, and on Tuesday, fervent supporter Whoopi Goldberg admitted on The View that the revelations point "to guilt." But RadarOnline.com has learned that Goldberg did not make the statement willingly. According to insiders, ABC honchos pressured her into it!
Article continues below advertisement
It was a startling turn of events on Tuesday's The View, as Whoopi interviewed ABC legal analyst Dan Abrams about Cosby's rape scandal.
In the segment, she finally admitted, "If this is to be tried in the court of public opinion, all the information that is out there kind of points to guilt....It looks bad, Bill. Either speak up or shut up."
An insider revealed, "ABC had pressured Whoopi into going on the air and backing off her support of Bill Cosby. Executive producers of The View had been all over Whoopi for her continued support of Bill."
Tensions on set escalated "after one of Cosby's accusers, supermodel Beverly Johnson appeared on the show," the source said. "Whoopi dismissed her claims. But after Bill's deposition was publicly released last week, ABC went to Whoopi and said, it's time for this to stop."
"It was becoming yet another distraction the show didn't need," the source explained.
Indeed, HBO's John Oliver skewered the talk show host on his show, Last Week Tonight, during the weekly "And Now This" segment, in a video titled, "Whoopi Goldberg Defends Ten Surprising Things."
The list included clips from The View, in which Whoopi claimed Mel Gibson was not racist, and defended domestic abuser, Chris Brown and rapist Roman Polanski.
Despite the pressure to make her statement, the insider said Goldberg did not go quietly. "This is a very smart lady. Whoopi isn't stupid. She was forced into a corner by ABC, and she is very angry about it," the source said.