Exclusive
Earth To Tom Cruise! Scientologist Believes Suri Is 'Controlled By Evil Demons'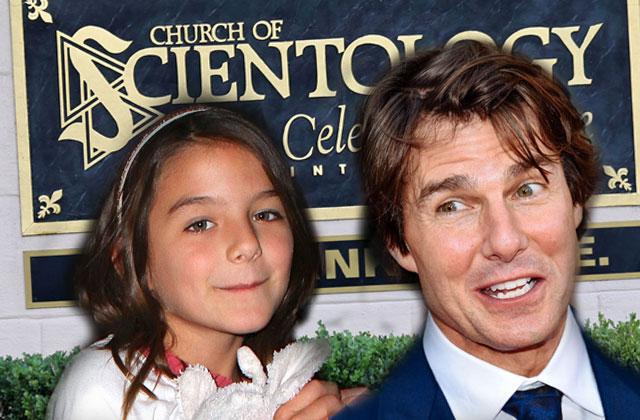 Article continues below advertisement
Cruise wants to reconnect with Suri, but only after subjecting her to Scientology's grueling exorcism-like auditing process, explained the sources.
One highly placed Scientology insider blamed church leader David Miscavige for talking Cruise into believing Suri, his only biological child, is harboring a spirit, known as a Thetan, which has become trapped in her human body.
"Miscavige would have hammered home to Tom that Suri has been infiltrated by a bad Thetan," said Gary Morehead, former head of Tom's personal security team at Gold Base, the main Scientology headquarters near Hemet, Calif. "Therefore, it's easy for Tom to disconnect from her."
"Once you reach the mind-set where Tom is at, he doesn't need much convincing," continued Morehead. "They believe the church is ultimately right, and abide by its demands."
Scientology doctrine insists a person must go through several levels of the punishing auditing techniques before "one's Thetan is completely free of external limitations."
The Top Gun star hopes to put Suri through that procedure to "clear" her of the bad Thetan, sources said, and bring her back into Scientology as an act of revenge against her mother, his ex-wife Holmes, who divorced him in 2012.
Article continues below advertisement
As RadarOnline.com previously reported, Scientologists regard Holmes' defection from the religion as a high crime, and consider her a Suppressive Person, or SP.
Suri, as the daughter of a defector, would be considered a Potential Trouble Source, or PTS, which could require Cruise to cut off contact with her.
A former Scientologist, Jon Atack, told RadarOnline.com that Cruise may have felt bad about not seeing his daughter after the divorce, but would have been ordered to cut Suri off anyway.
"It's likely Tom reported feeling upset, and that's when I think he may have been told to drop any connection to his daughter," Atack said.
However, Cruise reportedly wants to send Suri to a Scientology school, where she'll be educated in the teachings of the sect founded by L. Ron Hubbard, according to Atack.
"A PTS can be reformed by discipline and training, and become a good Scientologist," he noted.