Farrah Abraham's Costars Stunned When Shown A Video Of Her Attacking A Neighbor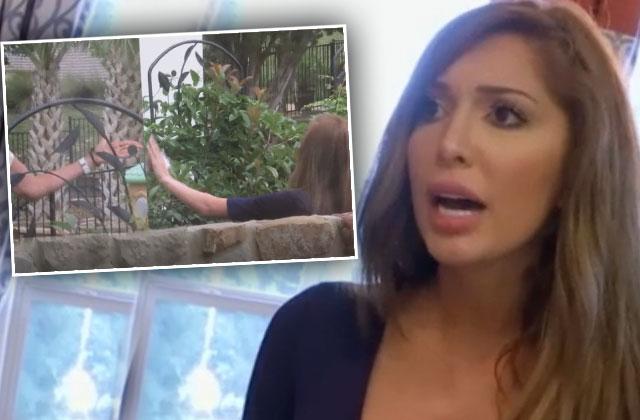 In a sneak peek for next week's Teen Mom OG Unseen Moments special, Farrah Abraham's temper behind the scenes is put on display for her costars, Amber Portwood, Catelyn Baltierra and Maci McKinney.
Abraham is caught in her backyard, exploding on her neighbor during an argument they're having.
"OK, so you know what? I'm going to just start yelling like you guys do," the 25-year-old reality star is seen in the video, "and we're going to see how well that works." Before storming back inside, she turns around and yells again "We have a better, classier life — have a good day!"
Article continues below advertisement
Abraham then walks back into her house, where her 7-year-old daughter Sophia Abraham is overheard praising her bad-mom behavior. "Oh my gosh, my momma is amazing," Sophia said after the explosive fight outside. "You're the best mom in the world."
When the footage ends, the camera cuts back to her costars on stage, where Baltierra mumbles, "Dude, I'd be egging her house every day."
The shocking clip of her exploding on camera was shown to her costars who are still livid after what Abraham said on stage during the show's last reunion special.
As RadarOnline.com reported, Abraham accused Portwood's fiancé, Matt Baier, of looking like a pedophile while she was talking to Dr. Drew Pinsky. Portwood charged the stage after Abraham's accusations, screaming, "F**k that f*****g b***h. Just because someone is 20 years older than you doesn't make them a pedophile. Shut your f*****g mouth. I'm going to stand up for my man."
Their fight escalated into a brawl when Portwood slapped Abraham across the face, causing Abraham's father, Michael, to push Portwood away from his daughter. Baier is later seen folding himself into the mix, throwing Farrah's dad to the ground for touching his fiancée.
At the end of this week's sneak peek clip, Portwood admits on camera, "It came from emotions. I cried about it — literally ten minutes after it happened. And — you guys have seen."
Baltierra jumps in by saying, "When somebody's calling your man a pedophile, that is disgusting, degrading word," before the clip ends.
Watch the sneak peek clip right here on RadarOnline.com!
We pay for juicy info! Do you have a story for RadarOnline.com? Email us at tips@radaronline.com, or call us at (866) ON-RADAR (667-2327) any time, day or night.