Amber Rips MTV For Editing Reunion Show Fight: 'They Cut Half Of What Happened Out!'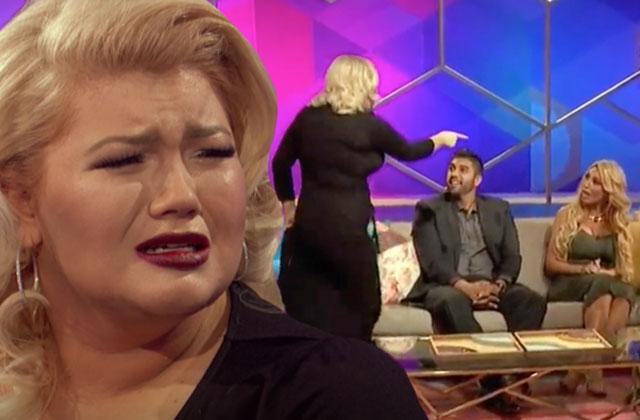 Amber Portwood's violent brawl with enemy Farrah Abraham aired on part two of the Teen Mom OG reunion special – but she insists MTV didn't edit the footage in her favor! Portwood turned to Twitter to accuse the network of fakery.
"F**k MTV they cut half of what happened out," Portwood, 25, tweeted. "I've worked too hard on myself for this bulls**t. Wow 8 years and this is what I get?"
Although fans watch her fiancé Matt Baier throw Abraham's father Michael into the audience, Portwood claims they cut out what caused Baier to go off.
Article continues below advertisement
"They cut out Michael literally screaming in my face calling me a b***h and him putting his hands on Matt's neck… disgusted," she continued. "It doesn't show Michael in my face calling me a b***h, which is why Matt came out and then he put his hands on Matt first."
But Abraham, 25, was pleased with the way she was portrayed, as she continued slamming her co-stars even after the brawl!
"I'd be embarrassed if I was like the 3 stooges but instead they all wish they could be me. Maybe one day," she tweeted, adding, "Byeeee criminal couple. Learn how to act in public… horrible example #Failedatlife."
The fight started when Abraham told Dr. Drew Pinsky that Portwood's fiancé "probably looks like" a pedophile.
That's when Portwood stormed the stage and screamed, "F**k that f*****g b***h. Just because someone is 20 years older than you doesn't make them a pedophile. Shut your f*****g mouth. I'm going to stand up for my man."
Portwood then slapped her across the face. When Michael stepped in to help hold Portwood back, Baier slammed him to the ground.
"Both of the criminals will do s**t," Abraham fired. "Michael, do you want to call the police on the criminals? Because they have to visit jail!"
Do you think MTV cut out scenes? Tell us in the comments!
We pay for juicy info! Do you have a story for RadarOnline.com? Email us at tips@radaronline.com, or call us at (866) ON-RADAR (667-2327) any time, day or night.