Exclusive
Hands Off! Taylor Swift Steps Up Attack On DJ Who Allegedly Groped Her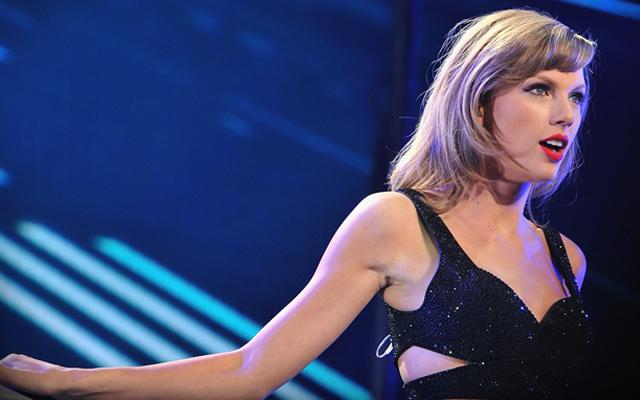 Don't mess with Taylor Swift! The singer is ratcheting up her legal attack on a radio DJ she has accused of groping her buttocks during a meet and greet.
RadarOnline.com has learned that on Dec. 14, Swift's lawyers filed new documents in her case against David Mueller, demanding $150,000 — $75,000 in compensatory damages and $75,000 in punitive damages — alleging the Colorado DJ caused her mental pain and suffering, resulting in inconvenience, emotional stress, fear, anxiety and humiliation.
Article continues below advertisement
In return, Mueller is seeking a total of $300,000, plus interest, from Swift. Mueller accuses her of costing him his radio station for what he insists are false accusations.
As RadarOnline.com reported, Mueller explained in his complaint that he has been working in the radio business for over 20 years, including the Colorado country music station 98.5 KYGO.
According to Mueller, his bosses informed him and his co-host, Ryan Kliesch, he would have to attend a meet and greet at Taylor Swift's concert on June 2, 2013.
Mueller said that he eventually went backstage to meet Swift. He explained that both he and his girlfriend complimented Swift and then took photos with her. He said the interaction went great and the singer "remained pleasant as she bid them goodbye."
Mueller claimed he later ran into a co-worker who bragged that during his meet and greet he put his arms around Swift and grabbed her butt during the photo opp.
Article continues below advertisement
Things took a turn for the worse when the 26-year-old's singer's bodyguard approached Mueller that night and accused him of grabbing Swift's butt when they took their photo. Mueller said he was then kicked out of the venue and eventually his bosses fired him over the allegations by Swift's people. He consequently filed suit for damages.
Swift fired back at the former radio host's lawsuit accusing her of causing him to be terminated from his job. While the singer admitted that she took a photo with Mueller and his girlfriend the night of her concert, Swift said that it was Mueller — not his co-worker — who inappropriately groped her when taking a photo. She sated that her security team correctly identified Mueller as the groper.
Swift said the accusations by the radio DJ that his co-worker was the one who touched her are lies.
She also claimed that at no time was she aware of Mueller's contract with the radio station and did not interfere with his employment. She adamantly stood by her statements about Mueller's actions that night because, she said, they are accurate and truthful.
Swift then counter-sued Mueller, alleging he committed sexual assault against her on the night of the concert when she was only 23-years-old. Swift says she knows Mueller's co-worker and she clearly remembers that he was not the one who assaulted her.
Article continues below advertisement
She explained she is suing the ex-radio disco jockey to serve as an example to other women who may resist publicly reliving similar outrageous and humiliating acts, and she insists any monetary judgment she wins will be awarded to charity.
The counter-suit stated that the singer was surprised, upset, offended and alarmed that the radio DJ had lifted her skirt and groped her bottom during their photo op. She said that the event caused her extreme anxiety because she did not know that a man she didn't know would grope her private and intimate body part during an event that she opened to her fans and radio hosts.
Swift explained that following the incident she was forced to begin a several-hour concert for 13,000 fans while still distressed about the alleged assaulted.
Both parties state they do not believe mediation will resolve their issues, nor is either willing to settle the case.
Mueller's legal team will now grill Swift for seven hours to answer questions about the night in question and the allegations of assault she claimed in her counter-suit.
The radio DJ will also be deposing a member of Swift's security team, her photographer and her mother Andrea, who will be questioned for a total of 2-4 hours.