'I'm Sorry, Nicki': Taylor Swift Apologizes To Nicki Minaj After VMA-Fueled Twitter Tiff –– Claims She Thought She 'Was Being Called Out'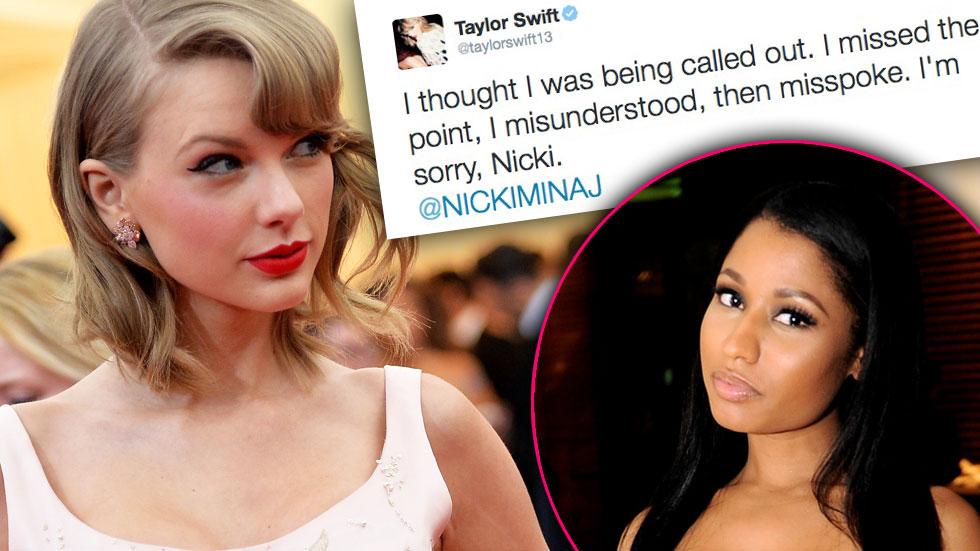 Taylor Swift apologized to Nicki Minaj Thursday -- claiming she "misunderstood, then misspoke" -- in ending a two-day Twitter beef that sprouted over MTV's VMA nominations.
Swift, 25, tweeted to the "Super Bass" singer: "I thought I was being called out. I missed the point, I misunderstood, then misspoke. I'm sorry, Nicki."
The back-and-forth between the blonde beauty and sexy R&B star erupted after Minaj complained that her clip for "Anaconda" was snubbed, after the nominations were announced Tuesday.
Article continues below advertisement
Minaj, 32, wrote: "If your video celebrates women with very slim bodies, you will be nominated for vid of the year ... when the 'other' girls drop a video that breaks records and impacts culture they get that nomination."
In response, the leggy "We Are Never Ever Getting Back Together" singer -- who led all artists with nine nominations -- became defensive in the ruckus.
"I've done nothing but love & support you … it's unlike you to pit women against each other," she tweeted. "Maybe one of the men took your slot."
Minaj shot back, "Huh? U must not be reading my tweets. Didn't say a word about u ... I love u just as much. But u should speak on this."
The gracious Minaj wound up accepting Swift's apology Thursday, writing, "That means so much Taylor, thank you. @taylorswift13 ❤️❤️❤️"
The VMAs, held this year at the Microsoft Theater in Los Angeles -- and hosted by Miley Cyrus -- are slated to air Aug. 30 on MTV.