Sister To Brother? Brad Pitt & Angelina Jolie's Kids Rally Around Shiloh Amid Gender Questions -- Therapy, Dress-Up Games & More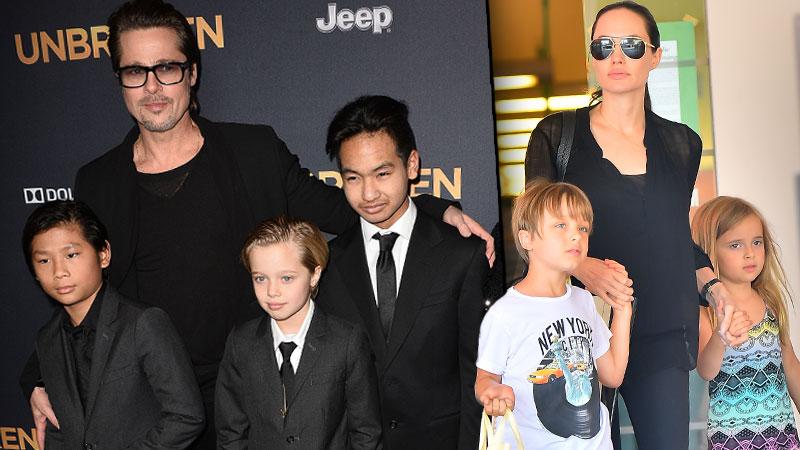 Shiloh Jolie-Pitt has told her parents she wants to be a boy, but she'll always be a beloved sibling to her brothers and sisters! RadarOnline.com has learned that Brad Pitt and Angelina Jolie's five children are coping well with their sibling's gender identity issues, as the parents work to protect their daughter from being teased.
As Shiloh, 9, continues to dress in boys clothing, "Brad and Angie have been doing everything possible to protect her from being bullied by her peers and outsiders," an insider told RadarOnline.com. "They have also been gently setting the tone for how their five other children interact with Shiloh."
Article continues below advertisement
"Shiloh typically wants to play with her three brothers," the source explained. "Maddox, 14, is old enough to help the younger siblings understand what Shiloh is dealing with."
Meanwhile, "After seeking out professional advice on how to help Shiloh, Brad and Angelina were told to let her dress however she wanted," the source said. "This has been an opportunity for fun in the family, because Vivienne and Zahara love to dress up in their mother's clothes. The kids are constantly putting on plays for their parents, and Shiloh often directs with Pax."
A source previously told RadarOnline.com that Pitt had been worried Shiloh's two older brothers had influenced her towards identifying as a male.
But after meeting with the expert, "Brad was told Shiloh would have gravitated towards dressing as a boy, and being called John, even if her siblings were all girls," the source previously claimed. "It's just the way Shiloh is, and there is nothing that they did wrong as parents."
"Angelina is very accepting of Shiloh's choices, and Brad is as well," the source said. "However, Brad wondered if Shiloh was just a tomboy and would outgrow it."
The source added, "Brad and Angelina are loving parents, but were told all of their kids could benefit from more discipline and structure. There is absolutely no spanking allowed, and the kids really are never told no. None of the kids have to make their bed or clean their rooms."