Roloff Rebel! 'Little People, Big World's Youngest Son Jacob Claims He 'Didn't Like Filming,' Was 'Thrown' Into Role For 'Parents' Ratings'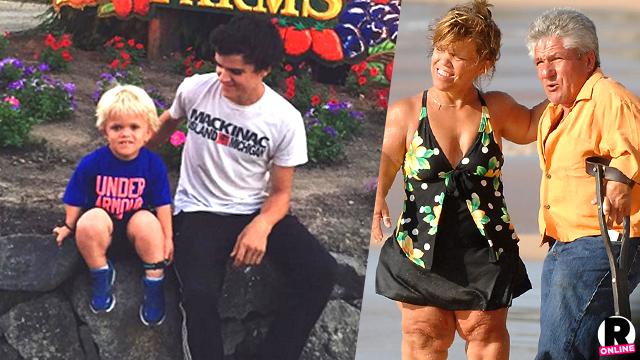 Jacob Roloff rarely appears on his family's reality show, Little People, Big World, these days— and now RadarOnline.com can exclusively reveal why.
Matt and Amy Roloff's youngest son, who started appearing on the TLC series when he was just 9 years old, shared his true feelings about his on-camera childhood with followers of his personal Instagram account.
The now 18-year-old, who has moved out of his newly-divorced parents' home, posted an adorable photo of himself last month with Our Little Family star Jack Hamill, 7, at Roloff Farms in Oregon.
Article continues below advertisement
Having grown up in a reality TV household, Jacob said he offered advice to the little boy, who appears with his parents on the new TLC show.
"I told him how much I didn't like filming when I was his age, so he knows just because the adults say it's what's best, doesn't mean it's what's best," he captioned the pic. "Then after, I asked him how he felt about it and after a pause he said, 'I like it medium,' meaning not at all, which is exactly what I would've said at 7."
He added that he saw so much of himself in Jack— and it wasn't necessarily positive.
"Hanging out with him for the short time that I did was a crazy reflective experience, seeing what it looked like…to be a 7-year-old thrown into different situations for your parents' ratings," Jacob wrote. "He's more of a central focus character in his family's show than I ever was, too, so there's more 'depending' on him. I can't imagine."
Article continues below advertisement
https://instagram.com/p/530cWHmLDX/?taken-by=jacobroloff45
As RadarOnline.com reported, Jacob appears to be estranged from his family, which also includes 25-year-old twins Jeremy and Zach, who both still make frequent appearances on the show. (The brothers' weddings were filmed for the series.)
He no longer follows anyone but similarly camera-shy sister Molly, 21, on Twitter— and shocked fans by claiming he was "f****ed" out of his TV money.
The rebellious teen has made other controversial comments on social media, talking about buying marijuana and protesting mass vaccinations.
Are you Team Jacob or Team Amy, Matt, Jeremy and Zach? Sound off in the comments.