Slimmer Looking Rob Kardashian Hangs Out With Sister Khloe's Ex French Montana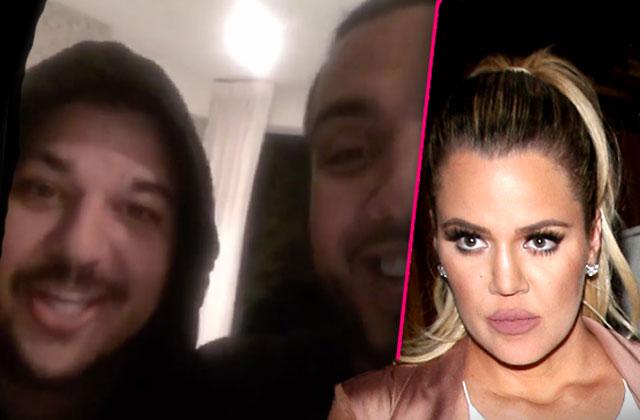 Take that, Khloe! Family reject Rob Kardashian, 28, proved that he'd rather be spending time with his sister's exes this week, hanging out with none other than rapper French Montana.
Khloe's former flame made sure to document their bro time, posting Snapchat videos to Instagram of the evening.
"@robkardashian get ready!!" French captioned one clip of the pair talking about "a thing called get the bags ready."
Article continues below advertisement
Though Khloe, 31, is no longer dating French, also 31, the two have remained close friends since their split last year. Of course, it still leaves room for drama as the reality star's little brother continues to shut out the Kardashians throughout his blossoming relationship with family enemy Blac Chyna.
As Radar previously reported, Blac Chyna is the baby mama of rapper Tyga, who has been dating Rob's half-sister Kylie Jenner for quite some time — awkward!
"Khloe feels so betrayed by Rob, because he's told her to back off since moving in with Blac," a family insider told Radar exclusively. "She doesn't like this relationship one bit, knowing just how much he wears his heart on his sleeve."
Meanwhile, things seem to be going well for Rob and his new lady, who sported a suspicious diamond ring on her left hand while on a girls-only trip to Trindad.
"Rob has fallen hard for Blac Chyna," a source recently told PEOPLE. "She makes him super happy and this is the first time he's felt so optimistic about life in years. She helps keep Rob in check with his health and makes sure he is abiding by his diet and exercising. He feels there is strong potential for this relationship to go a long way, but for now, they are very content and complement each other really well."