Secret Exposed: Kris Jenner REALLY To Blame For 'RHOBH' Stars Faye Resnick & Kathryn Edwards' Feud!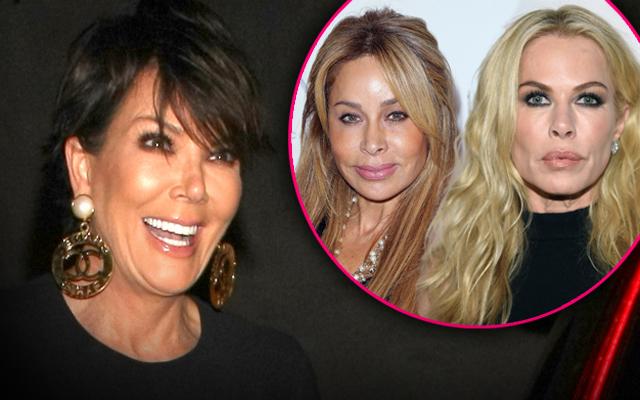 The Real Housewives of Beverly Hills' Kathryn Edwards may be livid with Faye Resnick for spreading rumors that her ex-husband, Marcus Allen, cheated on her with the late Nicole Brown Simpson and other women in the early '90s— but the Bravo newbie's anger seems to be misguided.
According to Resnick's 1994 tell-all, Nicole Brown: The Private Diary of a Life Interrupted, none other than Kris Jenner, now 60, was the real gossip sharing stories around Los Angeles about Edwards' relationship with Allen, an NFL legend and friend to O.J. Simpson before Brown's grisly murder.
Article continues below advertisement
During a 1993 phone conversation, Resnick claimed Jenner said, "Whatever you do, don't go out with Marcus Allen. He's the biggest womanizer in the world."
"And don't forget he's engaged to Kathryn. She turns a blind eye to his fooling around, but it hurts her when he does it publicly."
On a previous episode of RHOBH, Edwards, 57, confronted Resnick about her words in the book published more than two decades ago.
"My name was never mentioned in anything until you brought my name up," Edwards, 51, shouted at Kyle Richards' dinner party.
"I have nothing to say to anyone about what happened 20 something years ago. I mean, that was a very hard time and you know, it's sad," Resnick, 58, responded. "There's not really much to discuss at this point, is there?"
Despite Resnick's cordial response, Edwards was still furious with her longtime nemesis.
"I will never be Faye Resnick's friend," she pouted.
Edwards married Allen in 1993, though the couple divorced eight years later. She is now married to retired NFL player Donnie Edwards.