The REAL Reason Katie Holmes Won't Go Public With Jamie Foxx EXPOSED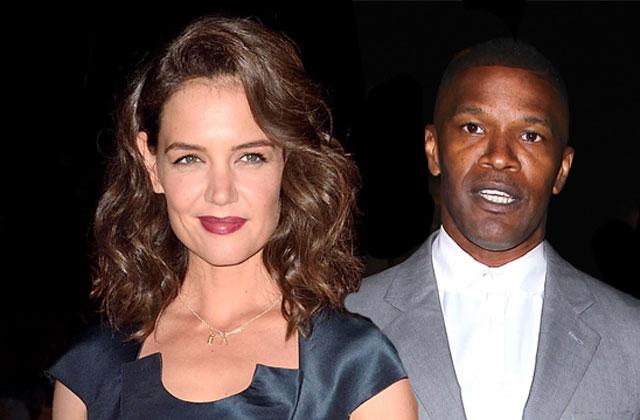 Katie Holmes is keeping her steamy romance with Jamie Foxx under wraps because of a secret divorce deal with Tom Cruise, RadarOnline.com has learned.
Holmes' divorce from "Mission Impossible" star orders she can't officially "date" until 2017, an insider told RadarOnline.com.
"Katie signed a clause in her quickie divorce settlement that prevents her from embarrassing Tom in various ways, like talking about him or Scientology, or publicly dating another man for five years after the divorce," the source claimed.
Article continues below advertisement
PHOTOS: Suri's New Life: How Mom Katie Holmes Is Keeping Her Normal After Scientology
"She's allowed to date, but she cannot do so in a public fashion, and she's not supposed to let any boyfriend near their daughter, Suri," the insider added. "Katie wanted out of the marriage so badly, she agreed to the terms — and got $4.8 million in child support, plus another $5 million for herself."
If she breaks the rules, the mom-of-one could lose the aforementioned money, the source claimed.
Indeed, Holmes's determination to maintain a perpetually single status in public has raised eyebrows over the years.
When asked about her dating life a few months ago, the actress retorted, "That's not something I want to answer!"
However, as RadarOnline.com has reported, the Batman Begins actress has been seeing Foxx since 2013.
Real Housewives of Atlanta star and friend to the 48-year-old actor, Claudia Jordan, even confirmed the relationship and June and revealed that the pair is "really happy." She quickly backtracked however, when her comments went viral.
Article continues below advertisement
Then, on Aug. 13, the covert couple almost blew their cover at Barbra Streisand's concert in New York when Holmes openly cheered as her man performed with the iconic singer. She then even joined him in his dressing room!
"They figured it wasn't a violation of the public rule because security prevented photos. They were so discreet," the source claimed.
But for now, the spy said, Holmes can't wait to drop the secrecy!
"At this point, Tom doesn't care much what Katie does," the insider said. "But he wouldn't mind getting his $5 million back!"