Paris Jackson Debuts New Tattoo In Honor Of Dad Michael Jackson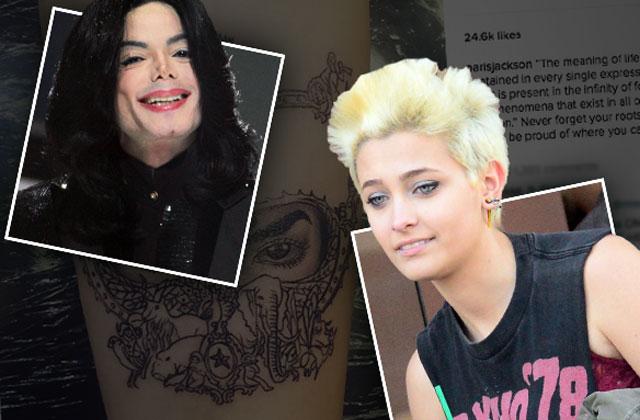 Paris Jackson will now have her dad around everywhere she goes! The teen unveiled some new ink this week in honor of the late King of Pop, Michael Jackson.
The 18-year-old took to Instagram to show off the fresh tat, which features Michael's eyes from the infamous Dangerous album cover. A decorative frame — including a crown, elephants, monkeys and even a peacock — also surrounds the image.
"'The meaning of life is contained in every single expression of life. It is the present in the infinity of forms and phenomena that exist in all creation,'" Paris wrote to Instagram followers, adding, "Never forget your roots, and always be proud of where you came from."
Article continues below advertisement
Meanwhile, sources tell Radar that the Jackson family has been worried over Paris' wild new lifestyle, saying, "She's totally out of control!"
As previously reported, Paris was under the co-guardianship of grandmother Katherine, 85, and cousin T.J. Jackson, 37, until her 18th birthday last month. "Katherine absolutely detests Paris' new style," said the source. "She is not into tattoos or piercings at all."
Ever since splitting with her former boyfriend — straight-laced college student, Chester Castellaw, 19 — the young millionaire has been dating 26-year-old rebellious rocker, Michael Snoddy .
"Paris is completely going against her family's religious beliefs by getting these tattoos and piercings," the insider told Radar.
Do you think that Paris Jackson's family has reason to be worried? Tell us your thoughts in the comments below.