Emotional Nicole Kidman Honors Late Father At London Stage Awards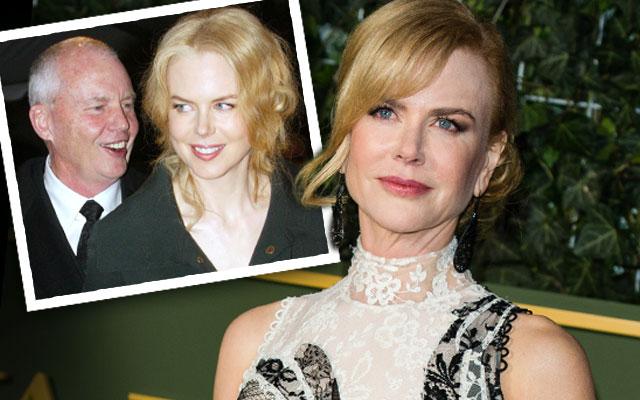 Nicole Kidman paid tribute to her late father, Dr. Antony Kidman, as she accepted a best actress award in London at the Evening Standard Theatre Awards Sunday.
Kidman, 48, was honored at the Old Vic theater, for her performance in the play Photograph 51, in which she played groundbreaking scientist Rosalind Franklin. She said that she knelt before a picture of her late father prior to each outing, as "he would give me the strength to do this every night."
Article continues below advertisement
The Moulin Rouge! star revealed that her father was her inspiration behind accepting the role in the stage production.
"This is my way of acknowledging him," she said, "but also of acknowledging people in science who quietly go about their work and do things and go unacknowledged a lot of the time.
The Aussie stunner added, "He knew I was going to do it, so I would like to think he is somewhere offering support."
She also thanked director Michael Grandage for recruiting her back to the live stage circuit, as she hadn't been in a production in 17 years.
"You found a new play and you made it all possible and you made it possible with such elegance and ease … theatre is alive, it's not dead, it continues … everybody is doing their job."
As Radar previously reported, Kidman and her husband Keith Urban publicly mourned the late psychologist, who died at 75 in September 2014 following a fall in Singapore. She credited her hunky hubby for standing behind her in the wake of the family tragedy.