Exclusive
'Rapidly Deteriorating!' Muhammad Ali Barely Breathing, 'In Dire Straits'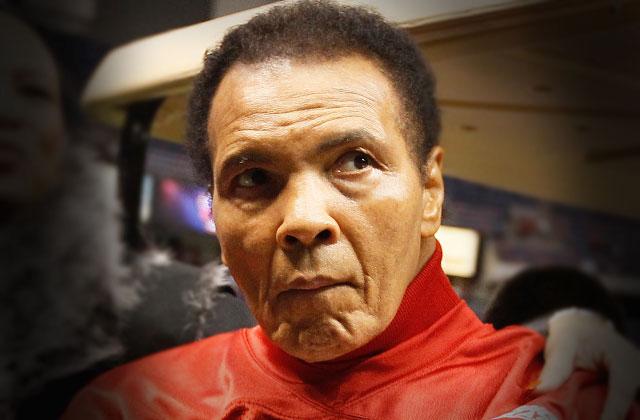 The family of boxing legend Muhammad Ali is "prepared for the worst" as the boxing legend has entered a disturbing downward spiral, RadarOnline.com has learned.
Currently hospitalized outside of Phoenix, "Ali is in dire straits and is rapidly deteriorating," an insider told RadarOnline.com. "His breathing has become very shallow, requiring tubes."
"Shallow breathing does not bring enough oxygen into your body," the source explained. And since Ali, 74, suffers from Parkinson's, "this exacerbates a number of unfavorable things, including, in his advanced case, fatigue and constipation. The latter is a large intestine issue that negatively impacts the lungs & the skin. Ali no longer feels the touch on the surface of his skin, mosquito bites, or cuts, etc. due to his age. And this is a degenerative situation that can't be reversed."
Article continues below advertisement
As RadarOnline.com reported, the boxing great was admitted to the hospital yesterday, due to respiratory issues. "He had an unshakeable cough and they had to bring him to hospital and sedate him," the source said.
But since then, his prognosis has not improved, and his desperate family members have gathered at his bedside.
"The family feels that even if he somehow survives this setback, he'll be left in a vegetative state," said the source. "He can't stand due to stiffness in the legs. Before this incident, he would sometimes freeze upon standing, like his feet are stuck to the ground. Now he cannot even do that."
According to the insider, Ali "is also said to experience hallucinations, and has fallen victim to occasional delusions, like that he's back in the ring with Joe Frazier."
"Doctors fear he's in the early stages of dementia. Or possibly beyond that," said the source. "The family has gathered around him and is prepared for the worst."
According to another insider, they've been told that it likely "won't be long" until he passes.