Exclusive
Rush To The Altar! Miley Cyrus & Liam Hemsworth Fast-Track Wedding Plans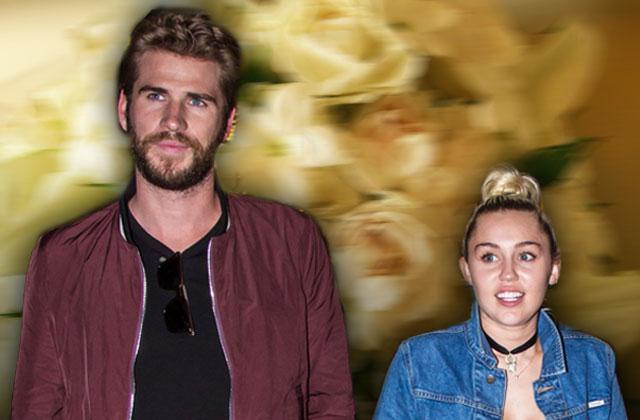 Miley Cyrus and Liam Hemsworth are back on in a big way and ready to make it official! Only a few months after their reconciliation, RadarOnline.com has exclusively learned that Cyrus, 23, and her 26-year-old hunky Aussie fiancé, Hemsworth, are "finally both on the same page about getting married." And they want to do it soon!
"As of right now, Miley and Liam are shooting for next month," an insider told RadarOnline.com. "The date has been set, but no one knows what it is except for the two of them and their parents."
Article continues below advertisement
"They are going to have a beach wedding in L.A., followed by another ceremony in Australia," said the source.
Last month, Miley's "Achy Breaky Heart" singer father, Billy Ray Cyrus dropped a bombshell confession – that he may officiate the ceremony.
While on The Today Show, Billy Ray said, "They're really happy together right now. They know if they need a preacher, they've found one."
And that's not the only way he's pitching in.
"Billy Ray and Tish are paying for the entire wedding because they feel that it is their duty," the insider told RadarOnline.com.
"Billy Ray gets along so well with Liam and Tish loves him too. They have already started calling him their son because they want to make him feel a part of the family."
As RadarOnline.com previously reported, this is not the first time that the superstar couple tried to make a wedding happen. They were engaged in 2013, but broke up that same year, only to reunite this spring.
In a recent interview with GQ Australia, Hemsworth said, "Of course it was hard, man. But at the time we were going in different directions and it's just what needed to happen. We were both super young and it was a good decision at the time — we both needed that."
Do you think that Miley Cyrus and Liam Hemsworth should get married? Tell us your thoughts below.