Split! Inside Jim Bob & Michelle's Bitter Fight Over Sex Addict & Child Molester Josh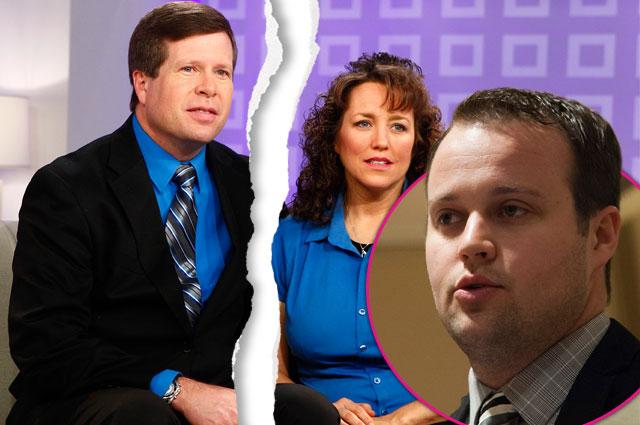 After seven months of Bible-based rehab, child molester and admitted sex addict Josh Duggar has returned to his family home in Arkansas.
And according to In Touch, the homecoming has created chaos in the fervent Christian home.
Josh's biggest defender, dad Jim Bob, furiously demanded an emergency family meeting when he learned that not all of his 18 other children were thrilled with their oldest brother's release from treatment.
Article continues below advertisement
"He explained that their brother Josh had sinned, but he's been forgiven and that was the end of it," a source told the magazine.
But Jim Bob's dutiful, soft-spoken wife Michelle, 49, was reportedly the one to disobey the patriarch's orders, leading to blowout fights between the longtime pair.
"Michelle, while she would never admit it publicly, understands why some family members don't want Josh around them or their children," the source explained. "She and Jim Bob have argued over it. Michelle has actually raised her voice to Jim Bob, which never happens."
"It's gotten so bad that friends think this could destroy the marriage that no one ever thought could be broken."
The mother of 19 has decided to be "cautious" around Josh, the magazine reported, which left her strong-willed husband, 50, livid.
The disgraced former "family values" lobbyist, 28, is now "splitting the family apart," the source revealed.
Creating more local tension, the rest of their tight-knit town of Springdale is shunning their former "hometown hero."
Article continues below advertisement
"Now he gets looks of disgust," the insider said. "His life will never be the same."
As Radar reported, father of four Josh confessed to cheating on his wife Anna, 28, and hiding a secret pornography addiction following Gawker's shocking report that he was a member of Ashley Madison, an affair-seeking website.
Three months earlier, a police report revealed that he had been investigated by police for molesting at least two of his sisters as a teen.