Exclusive
'Little Women' Drug Scandal: Christy Shuts Down Briana & Terra's Cruel Pill-Popping Claims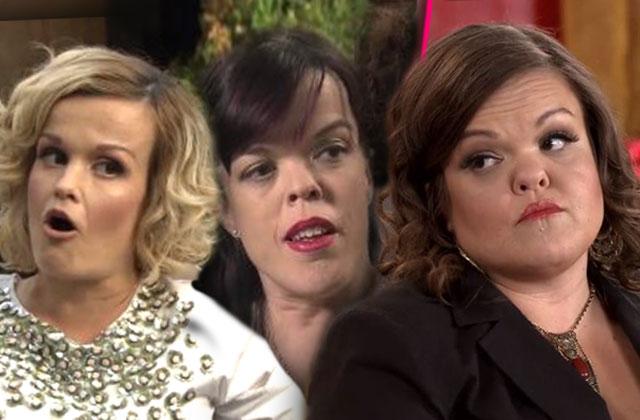 On last night's shocking new episode of Little Women: LA, Briana Renee and Terra Jole accused mutual enemy Christy McGinity Gibel of relapsing on drugs and alcohol.
"I think Christy is taking pills, because she's completely changed," Renee said of her former best friend. "She looks like she's worn out, but at the same time, she's wired. She's not the Christy I knew!"
But now, Gibel, 39, is fighting back against the cruel allegations, claiming she's been clean and sober for more than six years— and her costars are just trying to stir up drama.
Article continues below advertisement
"They know what buttons to push," the mother of Autumn, 16, tells RadarOnline.com in an exclusive interview. "They know making false accusations would get me riled up, because I'm so excited and happy about my sobriety."
"It hurts that they would stoop to that level."
More than anything, Gibel says she was devastated by her mother Sharyn's reaction to the claims.
"My mom watches the show, and she lost her s***," she recalls. "It was really bad. She knows how much how my sobriety means to me. It upset me that it upset my mom more than anything."
The one thing Gibel does confess to is being "worn out," as Renee claimed. But it's not partying, it's parenting that has her exhausted.
"My daughter's been in the hospital four times in the past month," she reveals, adding that Autumn suffers from thyroid problems in addition to her ruptured cyst. "I'm extremely tired."
In addition, her beloved father has been diagnosed with throat cancer.
Little Women fans can expect the fed-up star to retaliate against her accusers in upcoming episodes.
"If you poke the bear so many times," Gibel hints, "mama bear is going to say something!"
As Radar has reported, Gibel has been estranged from Renee since she alerted her family to the new mom's hospitalization on pregnancy complications earlier this year.
And Gibel fell out from Jole after an infamous bar brawl left her with a concussion in January.