Exclusive
Divorce Papers Revealed! Inside 'Little Women' Cheating Hubby Matt's First Marriage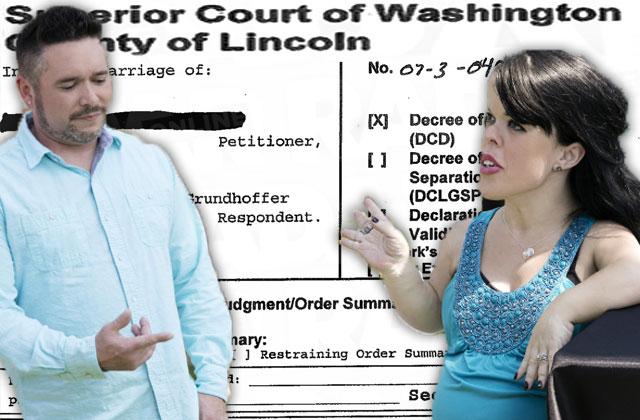 Years before Little Women: LA star Briana Renee's husband, Matt Grundhoffer, cheated on her with women online, the reality TV villain made a mess of his first marriage.
According to Washington state court documents exclusively obtained by RadarOnline.com, Grundhoffer's first wife filed for divorce from the troubled father of two after six years of marriage in December 2007.
The Washington-bred woman, whom Radar has chosen not to name for privacy purposes, claimed that the union was "irretrievably broken," and requested the judge give her the family's Tacoma home and 2006 Hyundai Elantra.
Article continues below advertisement
READ THE SHOCKING DIVORCE PAPERS
Grundhoffer agreed to the terms of her petition, and his estranged wife's wishes were granted in March 2008. While she received the car and house, her bad boy husband got a 2002 Subaru WRX and its vehicle finance debt.
The 39-year-old, who as Radar previously reported, filed for bankruptcy in 2005 , was deemed responsible for a U.S. Department of Education debt, Household Bank credit card debt, Best Boy Household credit card debt and Capital One Credit Card debt.
Though the former couple shared custody of their now 10-year-old son Aaric, who eventually walked down the aisle during Grundhoffer and Renee's TV wedding this year, the dad got only weekends and Tuesday nights with his young son.
He also was ordered to pay $300 a month in child support to his ex.
Now, eight years later, it's unclear how much time Grundhoffer gets with his oldest son. He lives in southern California with wife Renee, while Aaric and his mother still appear to live in Washington.
Article continues below advertisement
As Radar reported, Grundhoffer almost had a second divorce on his hands this year when Renee dumped him following his cheating confession. However, the 36-year-old singer, who just welcomed their son Maverick, decided to take him back weeks later.
Now, insiders tell Radar that a transsexual woman is going to appear on the show this season, accusing him of sexting her during his relationship with Renee.