'Devastating!' Dr. Drew Reveals How Leah Messer Is Coping With Her Custody Heartbreak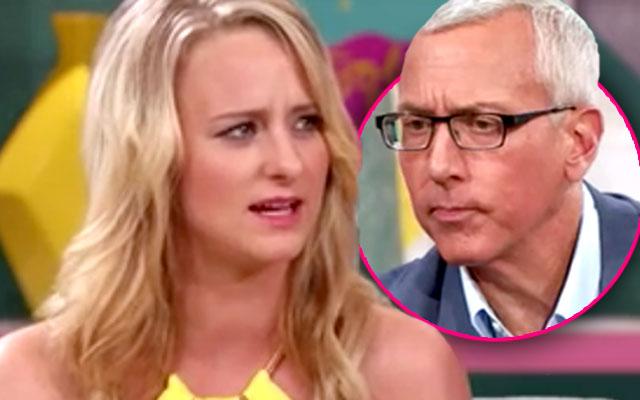 Leah Messer has been putting on a brave face on social media since losing custody of her five-year-old twins, Ali and Aleeah, last week. But Thursday, Messer's close confidante Dr. Drew spoke out to reveal how she's really handling the crisis.
"I know it's gonna be devastating for Leah," Dr. Drew, who moderates the Teen Mom reunions, said Thursday backstage at the Rachael Ray Show. "Leah loves her children. She is a dedicated mother. people are also wondering how she's doing and if you saw the last reunion show which is the last time I had contact with her, I believed she was making some progress."
Article continues below advertisement
He continued, "One of the signs i noticed that the people around her -- like her ex-husband and his new wife -- people around her were starting to really come down on her. When that starts to happen, that's a sign to me that the identified patient is getting better. That's a sign that things are getting better, because when somebody's aware enough, that the people who have been worried of them and frustrated, the person can actually hear them? That's when they come down on them. So I told Leah that's a a good sign and that she should just learn to tolerate it … but to focus on her treatment which she was willing to do."
"She had lots of good questions for me and i was expecting progress," he said. "I don't know if this recent issue with the child custody is going to set her back but i certainly wish her the best. She is working very hard and this has been a terribly stressful and painful time for her, so let's all wish her the best."
As Radar reported, she lost custody to her ex-husband Corey Simms "effective immediately" earlier this month, following months of jaw-dropping Teen Mom 2 clips that showed her dozing off around her children, serving them dinner near midnight, and worse.
She checked into rehab this June amid reports of prescription pill use, but cited depression as the reason behind her stay.