Leah's Nightmare: Ali's Health Is Getting Worse! Toddler Falls 5 Times A Day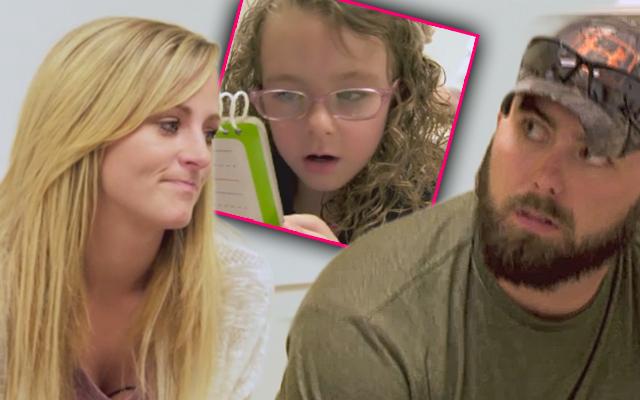 Leah Messer and Corey Simms may no longer be married, but together they will be facing some major battles in the new season of Teen Mom 2.
In a preview for the upcoming season, the exes head to the doctor and get some very disheartening news about their 6-year-old daughter Aliannah's declining health.
"We wanted to see Ali today and talk to you about everything," Dr. Tsao, a neuromuscular specialist, told the reality stars. "You mentioned that she will fall and hit her knee, right? She is not using her power wheelchair for the last three months, right?"
Article continues below advertisement
Dr. Tsao continues on to explain that a wheelchair expert will work on repairing the device, but in the meantime, he examines Ali's knees.
During the examination, Simms, 26, reveals that Ali falls at the least, five times a day.
This leads to the doctor sharing a sad prognosis.
"Her strength is still quite decent," he said. "But once she's getting to age seven, then gradually, the maturity affects her. Then she may very slowly get weaker."
Because of her health deteriorating, the doctor suggests that Ali may eventually have to use a wheelchair fulltime.
"So I think that she needs to have a power wheelchair all the time," he said. "So the most important thing is to fix her power wheelchair."
The doctor adds that Ali may be a fit for the Make-A-Wish Foundation.
"Make-A-Wish, she may qualify because many children with muscular dystrophy will qualify," he said. "If you haven't done that, you should apply."
Article continues below advertisement
Messer, 23, tries to tell the doctor that she wishes for Ali to make her own health decisions when she gets older, but the prognosis is more serious than she realized.
"She has muscular dystrophy," Dr. Tsao said. "If she gets weaker, then she may not enjoy much either."
"Right now she still can walk," he concluded. "She's going to get weaker over time. Close to seven it starts to go downhill."
The reality of Ali's condition finally starts to sink in with her parents.