Momager From Hell! Kris Kicks Kim, Kanye & Grandkids Out Of The House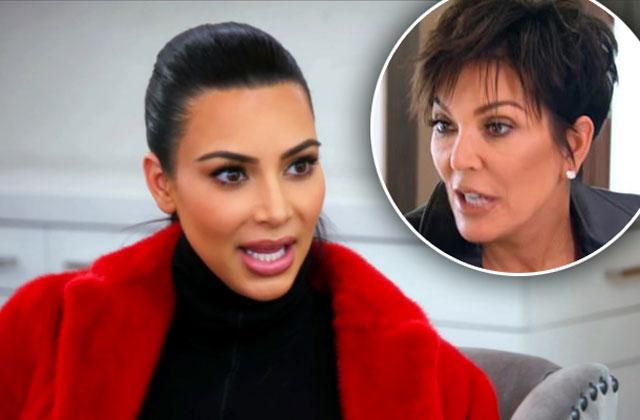 So much for family first!
Kris Jenner gave Kim Kardashian, Kanye West, and the couple's two young kids the boot from her Calabasas, California, home last night after more than three years on Keeping Up With the Kardashians — and as always in the crazy klan, drama ensued.
First, Kris screamed at Kim for (heaven forbid) parking her car in the driveway, which the overbearing momager claimed took nine months to renovate.
Article continues below advertisement
"There's major boundaries that are not being observed, so I'm done. That's the final straw," she said, as Kim and sister Kourtney completely ignored her by looking at photos on their phones.
Kris finally got Kim's attention in a slick new scheme — moving her furniture out of the house!
"My room is empty," Kim lamented to Khloe. "All the furniture has been moved out."
In a shocking diss, Kim claimed Kris gave the belongings to brother and nemesis Rob for his new digs with fiancee Blac Chyna.
Khloe was disgusted by the passive-aggressive move.
"She just lies and lies and lies," she said. "Own up! Let's just be honest about what you're doing."
Later, Kim complained to BFF Jonathan Cheban that Kris blamed her attracting roaches to her pantry.
"I'm going to kill her!" she griped. "Cockroaches in the pantry, she's insane!"
When she relayed the latest drama to hubby Kanye, he begged to sleep at the Four Seasons.
Article continues below advertisement
Refusing to be evicted by her own mother, Kim finally decided to make a power play and leave on her own accord — without Kris even knowing!
With Kourtney distracting Kris all day, Kim hired movers and gathered all her belongings in trucks.
"My mom was definitely trying to pull a fast one on me by moving me out, but I will definitely show her who the queen of surprises is!" she told the cameras.
Kris was certainly surprised, but not "sad" like Kim guessed she would secretly be.
"This is probably one of the happiest days of my life," the momager gushed. "I can't imagine a better surprise."
Finallly moved out of her mom's home, Kim, Kanye, North, 2 1/2, and Saint, nearly 6 months, settled into their Bel Air estate while their other Hidden Hills mansion was under renovations.
In other plots, Rob upset Kris, Kim and Kylie with his bizarre social media disses, and jet set model Kendall missed home and family.
And Kim and Kanye decided to go with Jonathan's genius idea: for Kim to dress up as Kanye's ex Amber Rose and Kylie to don a Blac Chyna costume for next Halloween!
"I think that's lit!" Kanye exclaimed in a rare demonstration of joy.
Fortunately for fans, October 31 is just five months away.