Exclusive
Anna Wintour SLAMS Kim Kardashian & Kanye West Ahead Of 2016 Met Gala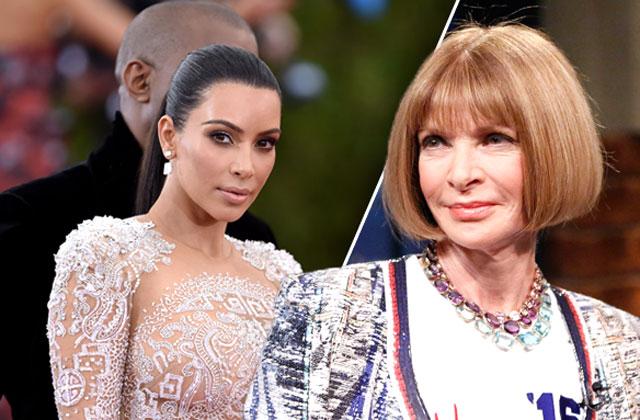 Keeping up with the Kardashians star Kim Kardashian infamously disobeyed the wishes of Anna Wintour at last year's Met Gala by taking a selfie on the red carpet, and RadarOnline.com has exclusively learned that there will be "hell to pay" if she does it again!
According to a source close to Kimye, "Anna Wintour sent a very specific letter to Kim and Kanye letting them know that they are forbidden from taking any selfies on the red carpet at this year's Met Gala."
Article continues below advertisement
At the 2015 Met Gala, a very pregnant Kardashian and her 38-year-old Yeezy rapper husband completely disobeyed Wintour, 66, by taking selfies – even though they were specifically instructed NOT to do so beforehand.
"Anna was so p*ssed off last year when Kim took selfies on the carpet that she let her know that she will not tolerate it this year," the source told RadarOnline.com.
"She told them that she does not want to see either of their phones out at all tonight!"
"If Anna sees that either Kim or Kanye take any selfies this year, neither of them will be invited back to the Met Gala next year," the source told RadarOnline.com.
As RadarOnline.com previously reported, after finally nabbing the cover of Vogue in 2015, the friendship between the Wests and Wintour took a turn for the worst last month when Wintour bashed West's The Life Of Pablo Fashion Show – telling talk show host Seth Meyers that she was "in tears" after getting lost in the basement of Madison Square Garden while trying to escape from the horrific event.
So what do Kardashian and West think of Wintour's requests?
"Kanye thinks that it is just ridiculous and they are both still upset over Anna's comments made about his fashion show," the insider said, adding, "They are kind of scoffing at her requests."
Do you think that Kim Kardashian and Kanye West should take selfies at the Met Gala tonight? Tell us your thoughts in the comments below.