Katie's Ex-Fiancé Pleads To Get Off Drug Probation — Letter Revealed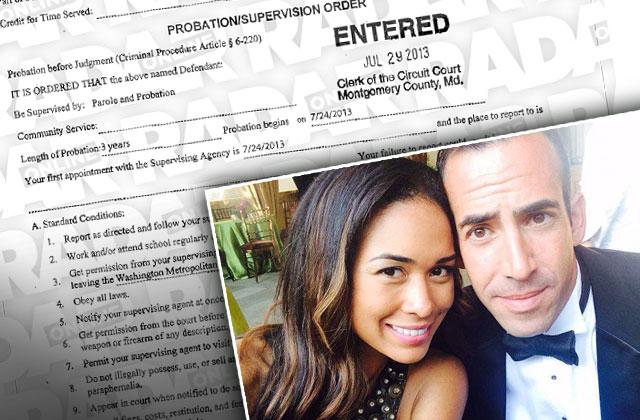 Katie Rost's ex-fiancé Andrew Martin's shady past came back to haunt him in a big way.
As RadarOnline.com first reported, the 44-year-old businessman — featured on Real Housewives of Potomac — was found guilty of conspiracy to possess with intent to distribute on June 16, 2013 after a SWAT team invaded his home and discovered boxes of marijuana inside.
But Radar has now exclusively learned that Martin's felony conviction hurt his chances of building a new career outside of his former drug-dealing life.
Article continues below advertisement
According to court papers obtained by Radar, Martin was sentenced to three years of probation, which began on July 24, 2013.
READ The Court Documents Here!
As part of his probation, he could not "possess, use, or sell any narcotic drug, controlled substance, counterfeit substance, or related paraphernalia," had to successfully complete an alcohol and drug treatment program, and take random urinalysis tests.
After just a year and a half of probation, Martin decided to write a desperate letter to the court in the hopes of getting relinquished from his sentence.
In the letter, Martin claimed that he had satisfied all the terms of his probation including reporting to his supervising officer, completing a treatment program and paying off all of his fines.
He continued on to say that just three months after his conviction, Martin was hired by "Oppenheimer and Co. as a Senior Director — Investments" in Washington, D.C. and had started to "reestablish his career as a Financial Advisor."
Article continues below advertisement
He also claimed that he had joined a bunch of charities and helped raise $250,000 for one in particular.
But in writing his letter, Martin revealed that his drug probation was prohibiting him from obtaining the licenses he needed to do his job.
"My employment requires me to attain state license registrations on an individual state basis," Martin wrote. "I have received the approval over the last 18 months on a few states but my probation is disallowing me from gaining registration in states such as Florida, New Jersey, Michigan and a host of others."
"The state licensing issue has negatively impacted my ability to reestablish my career," he added. "Previous to the probation, I was licensed in all these states and consequently my clients have not been able to conduct business with me as that would be a violation of Securities Law."
Martin also stated that his probation was holding him back from being nominated to boards of The Rost Foundation and the Tiger Woods Foundation.
Article continues below advertisement
"The foundations require me to be off probation before I may receive the appointments and thusly inhibiting my impact on these foundations," he explained.
Martin ended the letter with a plea saying that he was a changed man.
"I have gained great experience and knowledge during this process," he wrote. "I have come to understand the need for accountability and the desire to not only provide value in my work life but to also provide value in my community through charitable and philanthropic ventures."
On April 6, 2015, a Maryland circuit court judge signed off on the termination of Martin's probation.
Nine months later, Martin's hit show, Real Housewives of Potomac, premiered on Bravo.