Sisters At War! Kim & Kyle Feuding With Kathy Hilton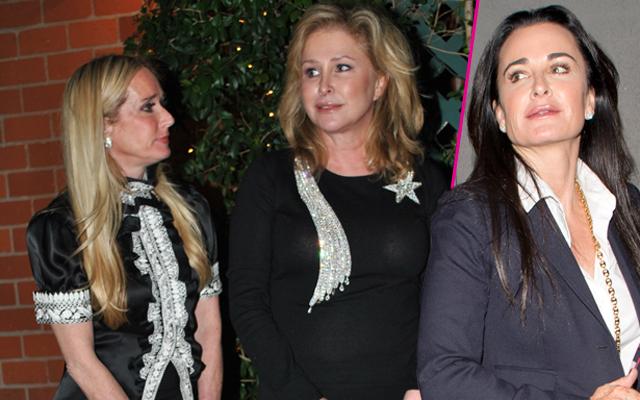 It's sister versus sister ... versus sister! RadarOnline.com has learned that Kim and Kyle Richards and Kathy Hilton are all at war over the recent drama on RHOBH.
An insider said the gloves are off after Kyle brought up the drama surrounding her niece Nicky Hilton's London wedding on Tuesday's episode of Real Housewives of Beverly Hills.
Speaking to Lisa Vanderdump during a vacation in Tuscany ahead of the wedding last summer, Kyle claimed she had been uninvited. She said she later decided to attend, but without her husband, Mauricio Umansky, and two of her four daughters, including youngest daughter, Porsha, who served as a flower girl.
Article continues below advertisement
The Hilton family insider added, "Nothing was going to keep Kyle away from Nicky's wedding. It was the social event of the season and the reception was at Kensington Palace. Kyle would have crashed the wedding to be there."
Kim didn't attend the wedding because of ongoing treatment for alcohol addiction.
But after those inside details showed up on air, Nicky's mom Kathy, Kyle's sister "was absolutely fuming!" the insider said.
"This was her daughter's wedding, and should only have been about Nicky. Kyle wants to constantly make everything about her, and it was a total disruption during the festivities to have her attend."
"The fact that this showed up on RHOBH is just another betrayal according to Kathy," the insider continued. In fact, the bad blood goes back years.
Said the source, "Kathy's husband, Rick, gave Mauricio a job at his real estate firm, and really helped him out. Of course, Mauricio left, only to start a competing real estate company. There are a lot of lingering issues obviously between the sisters."
In addition, Kyle had financially supported Kim for years, "and that has now become Kathy's responsibility," the source said. "Kim is living in a condo in Westwood, and Kathy pays all the bills. Kyle has said her checkbook is closed for Kim."
Whose side are you on? Let us know in the comments!