Exclusive
Out Already! 'Real Housewives of Beverly Hills' Star Kim Richards Leaves Rehab -- What Do Friends Think?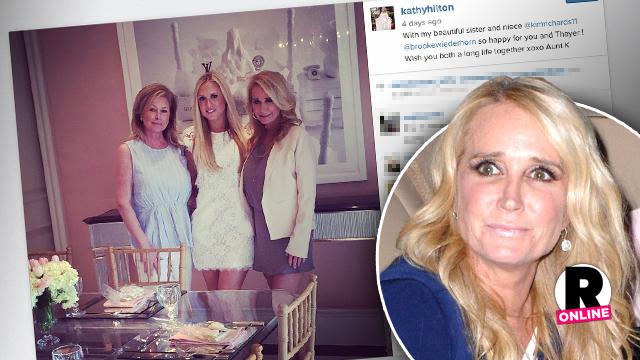 Only a few short weeks have passed since Real Housewives of Beverly Hills star Kim Richards entered a rehab treatment facility to overcome her alcoholism, but RadarOnline.com has exclusively learned that she's secretly left!
On Friday, just days after Richards was charged with resisting arrest and battery of a police officer, the 50-year-old troubled reality star's sister, Kathy Hilton, shared a photo of Kim at her daughter Brooke Brinson's shower for her upcoming wedding to Thayer Wiederhorn.
Article continues below advertisement
In the caption, Hilton wrote, "With my beautiful sister and niece @kimrichards11 @brookewiederhorn so happy for you and Thayer ! Wish you both a long life together xoxo Aunt K."
https://instagram.com/p/2rmumHJgWj/?taken-by=kathyhilton
And at least two weeks before that, another source claimed, Richards was seen shopping at the Malibu Country Mart.
"I heard that Kim actually left rehab already," says former friend Kay Rozario, 80, who just won the court case against Richards for being attacked by Richard's viscous pit bull, Kingsley.
Another source close to Richards said she had left for good as well.
Still some rehab facilities allow day passes and insiders have insisted that Richards fully intended on staying for 90 days.
As RadarOnline.com previously reported, Richards' RHOBH bosses are only going to renew her contract if she completes the full stay. But in recent weeks she has been feuding with staff about leaving for daughter's wedding later this month.