Not Keeping Up With Cuba! Kardashians Weren't 'Culturally Prepared' For Trip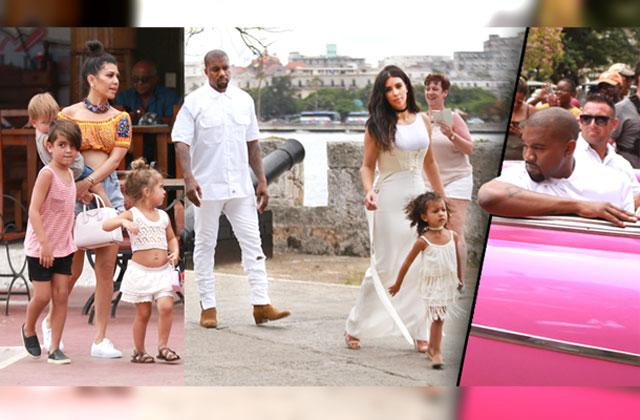 The Kardashians may rule in L.A., but they're fame doesn't get them very far in Cuba! Ever since they landed in the Caribbean nation , Kim, Khloe, Kourtney and Kanye West have battled a flurry of what they deem to be major problems.
"They love the culture, but they don't like the technology," a source told Page Six . "They've had an issue every two seconds about not having Internet. They complained they couldn't get on Snapchat. They're frustrated and they can't wait to leave."
Article continues below advertisement
"They weren't culturally prepared for Cuba," the source said.
Page Six also reported that the biggest problems for the group is that for once nobody recognizes them and many refuse to sign the release forms for Keeping Up with the Kardashians production staffers as a result.
"They don't have reality TV in Cuba — the Kardashians aren't a big deal," the source explained. "They are like, 'Who are you, why are you filming?'"
A rep for Kim Kardashian tried to play down the reality family's Cuban conundrums. "If there are any issues, they are production issues."
As RadarOnline.com reported, critics have slammed the Kardashians' latest getaway.
"I know it's cool for celebrities to go to Cuba, but the Cuban people don't experience the glamorous Havana that is featured on social media," South Florida Rep. Ileana Ros-Lehtinen blasted in a statement. "Far from photo shoots and fruity drinks, everyday Cubans experience a different, sad reality."