Kim's On Lockdown! How Kanye Reacted To News She's 'Considering Divorce'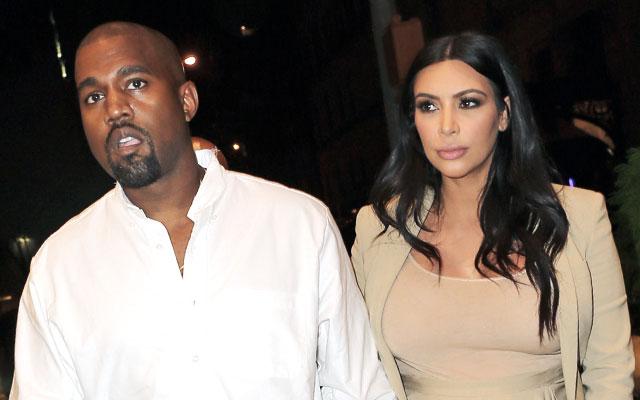 Kanye West won't take any drama from Kim Kardashian! Amid new reports she threw him out of the house, RadarOnline.com has learned he hit back and put his wife on lockdown.
When the rapper lit into Wiz Khalifa by calling his ex-wife Amber Rose a "stripper" and dragged their young son into the feud. Kim Kardashian was mortified by his actions, reportedly even banning him from the house.
But an insider said West rules the roost, and he came back at Kardashian with very specific instructions.
Article continues below advertisement
"Kanye told Kim that she wasn't allowed to say anything on social media after Amber Rose Tweeted that gross note about him," a source told RadarOnline.com.
"He told her that she was forbidden from getting involved. He said this was his fight and he was going to handle it his way and that he didn't want Kim to write anything herself," the source claimed. "Even though she has the most followers out of all of them, Kanye told her he didn't want her to say anything."
But Kardashian's disgust over his rant against Rose's little son got through to him and he ordered her to help him fix the situation.
"Kim told Kanye how totally inappropriate his comments were. She really let him have it. But he is still the one who rules the marriage," the source explained.
"So Kanye made Kim call Amber and meet with her. He wanted Kim to make up with Amber for him. He told her what she had to do, and she listened to him, of course."
Article continues below advertisement
But Kardashian is worried about her reputation following West's rant, another source told RadarOnline.com. "Kim cannot stand how Kanye is going on a PR hate rant and she does think that he is really messing with her image," the source said.
Not even married for two years, West and Kardashian bicker non-stop.
"The two are constantly fighting about that because they are both super power-hungry and rarely see eye-to-eye on how to handle criticism," the insider continued. "Kim wants Kanye to check with her before going and spewing hateful things on his Twitter."
But the first source told RadarOnline.com that West's actions in the fight are standard practice in the marriage.
"Kanye is completely in charge of what Kim does and she always follows and listens and does what he says," said the source. "No matter what."
What do you think about Kanye's controlling ways with Kim? Sound off in comments below.