Worse Than Fans Know: Kaley Cuoco's Estranged Husband Ryan Sweeting Arrested For DUI, Felony Possession Of Drugs With Intent To Sell!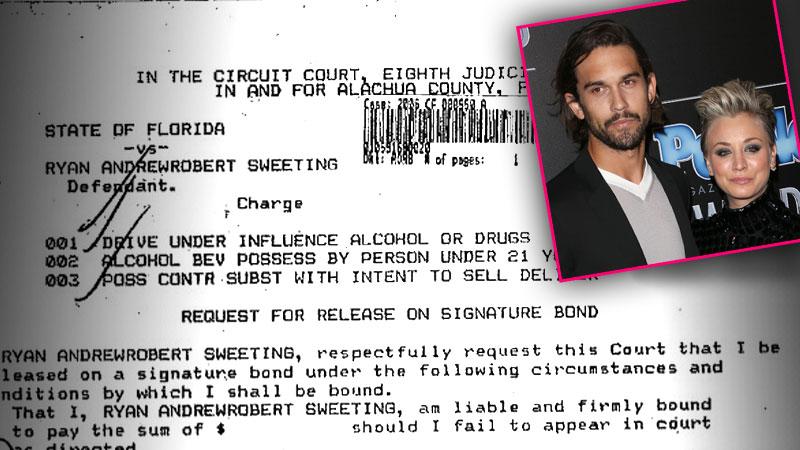 Kaley Cuoco's estranged husband Ryan Sweeting seemed like the squeaky-clean athlete next door before their sudden split — but he was hiding some dark secrets.
RadarOnline.com can exclusively reveal that the Bahamian tennis pro, now 28, has an extensive criminal record that goes beyond just a DUI as a foolish college student.
According to Florida's Alachua County Circuit Court documents exclusively obtained by Radar, Sweeting was pulled over in his Mazda at 2 AM on March 2, 2006 near the University of Florida and found to be driving with a .133 blood alcohol level, nearly twice the legal limit.
Article continues below advertisement
He was arrested for driving under the influence, possession of alcohol under the age of 21— and possession of a controlled substance with intent to sell or deliver, a felony.
The drug was reported by local papers to be powerful prescription stimulant Adderall.
THE PROOF! READ THE SHOCKING COURT DOCUMENTS
He was released from custody on bond later that day.
He pled no contest to the first two charges, and was ordered to one year of supervised probation, 50 hours of community service and alcohol education classes in September 2006. Sweeting also lost his license for six months.
However, the drug charge was temporarily dismissed, "to be filed at a later date," the assistant state attorney wrote. (The case is now considered closed.)
He was busted again by cops for "unlawful speeding" on the Florida interstate highway on October 8, 2008. He was ordered to pay a fine.
Years later, his past allegedly came back to haunt him. According to Us Weekly, Cuoco dumped her husband of less than two years when she grew fed up with his prescription drug and alcohol abuse.
Though he reportedly offered to enter a Boston rehab center this month, it was too little, too late for the Big Bang Theory actress, 29.
"She said he couldn't make a commitment to get sober. He'd tell her he was working on it, and instead go get wasted," a source tells the magazine. "She didn't want to get divorced, but felt she had no choice. She couldn't fix him. He wasn't the man she thought he was."