Jessa Duggar Reveals 'Difficult Times' She Faced Amid Brother Josh's Scandal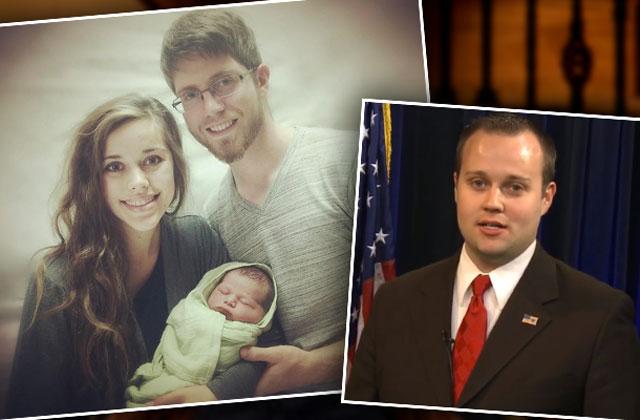 She may be "counting on," but Jessa Duggar Seewald admits that brother Josh Duggar's bombshell scandals tore the reality TV family apart for some time.
"During my pregnancy, my family walked through some very difficult times. A lot of things from my oldest brother's past were brought up and it was just really difficult for us as a family to walk through that again. Relive that," she confessed.
"It was very difficult and we cried a lot of tears. I felt like it was especially difficult for me because I had spoken out in defense of Josh and had stood up for him and then there was a whole another wave of things that came through," the 23-year-old continued, a sentiment her sister Jill has also shared. "It was really difficult for me to just be like, 'I stood up here, I spoke out for him,' and yet there were some things he was hiding and wasn't being honest about. It was very emotional through those months after that, just working through all that."
Article continues below advertisement
"For us as a couple, it even strengthened our resolve to be true to our wedding vows and to always keep our first love, which is God and pursue that and then to pursue each other 100 percent. I feel like we as a couple, even drew closer together through the difficulty," she added.
Watch the Video on RadarOnline.com:
During last week's episode of Jill & Jessa: Counting On, Josh's wife Anna opened up about her husband's then-pending release from rehab facility Reformers Unanimous in Rockford, Illinois, following his porn and cheating scandal.
"I think it's daily, there's going to be a lot of work and there kind of is a long process ahead, but we'll just kind of take it one day at a time and keep trusting god and doing the right thing," Anna told her family. "I think there's lots of hope for the future and a lot of excitement. But, in some ways, there are a lot of steps before it's where it needs to be."
It was also revealed earlier in 2015 that Josh's parents had covered up his teenage molestation scandal.
As Radar previously reported, the reality star was caught sexually assaulting four of his sisters and a family friend. Jill and Jessa later recalled their brother's abuse during a bombshell interview, revealing that they had since forgiven him for the attacks.
The two-part finale of Jill & Jessa: Counting On concludes Tuesday at 9 p.m. ET on TLC.