Exclusive
Jen's Nightmare! Friend's Death Sparks Drug Investigation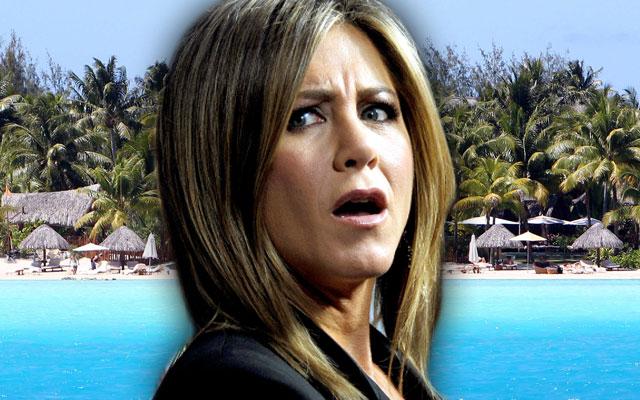 The death of Jennifer Aniston's friend on her honeymoon has sparked a shocking drug investigation, RadarOnline.com has learned.
Aniston's friend Carmel Musgrove suddenly died on her honeymoon, and now, in a bombshell exclusive, Radar has obtained a secret "Investigative Report" issued by the San Diego County Medical Examiner's Office regarding the woman's passing.
The document, dated Oct. 6, listed the former Friends star in connection with the death of Musgrove, a 28-year-old who had traveled to the French Polynesian paradise of Bora Bora with other celebrity pals for Aniston's fairy-tale getaway after her surprise wedding to Justin Theroux.
Article continues below advertisement
According to authorities, Musgrove — an assistant to Hollywood heavyweight Joel Silver, producer of the Lethal Weapon and Matrix films — died from a combination of drowning and the effects of drugs and alcohol in her system.
"Now Jen's beautiful memories of her honeymoon are turning into a horror," a source told Radar. "The authorities are trying to determine where the drugs her friend consumed before her death came from."
Aniston's high-powered publicist, Stephen Huvane, told Radar it was all an unhappy coincidence: "Her honeymoon was well over, and she was already back in Los Angeles when this horrible tragedy occurred," he said.
Aniston, 46, and Theroux, 44, tied the knot in a ceremony at her Bel-Air estate on Aug. 5. The next day, the newlyweds and a host of A-list celebrity pals — including Jimmy Kimmel and his wife Molly McNearney, Jason Bateman, Jen's former "Friends" co-star Courteney Cox, and Chelsea Handler — flew to Bora Bora aboard a private plane.
Article continues below advertisement
The guests stayed at the posh, $1,000-a-night Four Seasons Resort Bora Bora.
Musgrove — who started as an intern for Silver and worked her way up to associate producer on the 2014 thriller Non-Stop — was last seen at about midnight on Aug. 19 in her room when a hotel attendant delivered matches she'd requested.
Earlier that evening, she'd spent time in the nearby bungalow of a male guest, who told authorities they'd smoked marijuana and Musgrove had used the shower.
It wasn't until 2 a.m. the following day, Aug. 20, that Musgrove's nude body was found on the shoreline about 400 yards from her bungalow.
French authorities performed an autopsy and found she had marijuana, cocaine and alcohol in her system.
A check of her bungalow found bottles of alcohol, marijuana and "apparent paraphernalia with some type of 'dust,'" according to the document, which also indicated Musgrove's wet bathing suit was found on the floor.
Famed forensic pathologist Dr. Michael Baden, who was asked by her family to assist in the second autopsy, told Radar he has yet to reach a conclusion on the cause of Musgrove's death.
Said the source: "Jen will never be able to think about her honeymoon again without remembering how her friend lost her life. It's now a real nightmare in paradise."