Exclusive
Mother Of Jay Z's Alleged Love Child Begs On Deathbed: Acknowledge Our Son!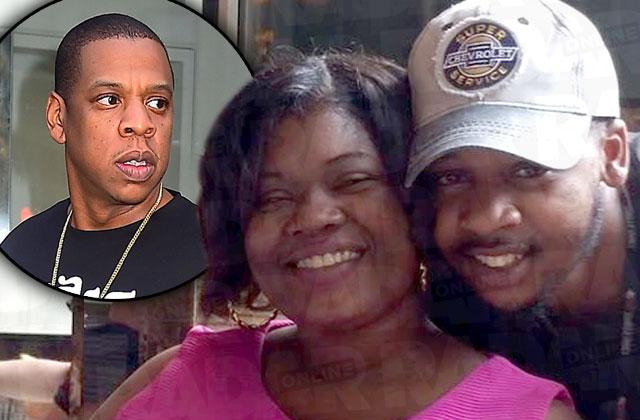 As Jay Z continues to fight claims that he is the father to 23-year-old Rymir Sattherwaite, RadarOnline.com has learned that the alleged love child's mother, Wanda, is fighting for her life!
A source close to the Satterthwaite family told Radar that Wanda – who just celebrated her 40th birthday alongside family and friends – may not have much longer to live.
"Wanda's health has been failing her badly since 2009 and in 2012 she was placed in a medicated coma due to heart failure and complications with her lungs," the insider said.
Article continues below advertisement
At the time, Wanda placed her son Rymir under the care and guardianship of his godmother, Lillie Collie.
"Wanda put Rymir under Lillie's care because she knew how serious her situation really was," the insider said. "She needed to know that, if she were to die, Rymir would be safe."
"Since then, she has been in and out of the hospital very regularly and is currently on a breathing machine each day. Last month, she was in the hospital several times for two to three days each time."
Meanwhile, the 46-year-old rap mogul's paternity case, which started nearly a decade ago, is currently being reviewed by the Supreme Court over allegations that fraud and collusion have allowed Jay Z to avoid taking a DNA test to prove, once and for all, whether or not he is the biological father of Rymir.
In a shocking video posted on Radar in May, Wanda said, "My name is Wanda Satterthwaite and I am the mother of Rymir Satterthwaite. Today is April 20, 2016 and I want the world to know that I support my son in his paternity suit with Shawn Corey Carter. I stand by my allegations regarding this man."
"Wanda knows that her health is declining and it's by God's grace that she is still here," the source told Radar.
"She also knows that it's God's choice when she goes. But she wants nothing more than to live long enough to see her son get justice and to see Jay Z take responsibility for his child."
Do you think that Jay Z should take the paternity test? Tell us your thoughts below.