Exclusive
Gwen & Blake Bombshell: Source Claims Stefani Tells Shelton, I Won't Marry You!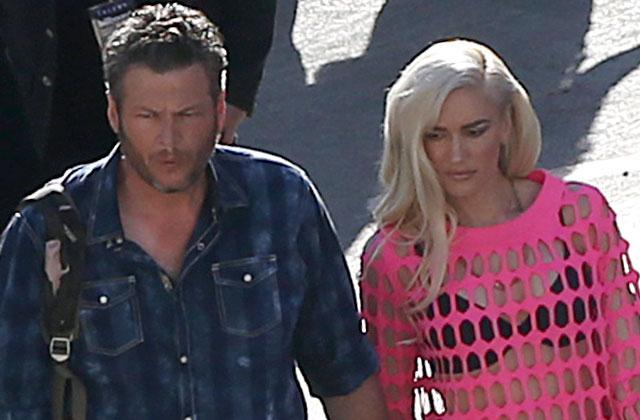 Gwen Stefani is pumping the brakes on her whirlwind relationship with Blake Shelton! RadarOnline.com has exclusively learned that he recently popped the question after just six months of dating, but she said no!
"Gwen was very touched, but said she had to wait to make sure it was right for the kids," an insider told Radar.
It all went down during an indoor picnic at her mansion, when Shelton, 39, hid a stunning $1.2 million Tiffany diamond engagement ring in a box of Kentucky Fried Chicken, according to the source. But when Stefani, 46, found the bling, she didn't react with joy as he hoped.
Article continues below advertisement
Stefani said her three young sons, Kingston, 10, Zuma, 7, and Apollo, 2, played a big role in declining his proposal — as well as their seven-year age difference, the insider said.
"Gwen fears their age will get in the way of long-term happiness," said a source. "She's 14 years older than Blake's ex-wife, Miranda Lambert!"
But Stefani is also reportedly still stinging from the betrayal of ex-husband Gavin Rossdale cheating on her with their nanny, leading to the breakup of their nearly 13-year marriage.
"Gwen wants to trust Blake, but she fears it could come back and bite her," claimed the insider.
While the pair has made beautiful music together during their first six months dating — even recording the duet "Go Ahead and Break My Heart" — Stefani also "believes the time may have passed for her to have another baby," added the source.
"She's worried Blake won't be happy in a marriage where he might never be a father."
But according to the insider, Shelton told Stefani to hold onto the rock until she changes her mind. Stay tuned!