Exclusive
Exclusive: Sicko JonBenet Suspect Pens Creepy Love Letter To Slain Beauty Queen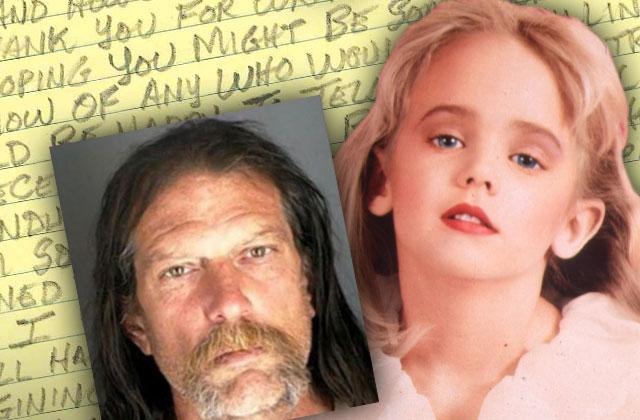 FINALLY ROTTING IN A PRISON CELL, the porn pervert suspected of murdering JonBenet Ramsey told RadarOnline.com in a bombshell world exclusive jailhouse interview: "I made a pact with JonBenet's soul to always remember and keep her memory alive!"
Speaking from inside the Boulder County Jail, Gary Oliva, 52, added in the sensational sit-down, "You can take that as the rantings of a deranged pervert obsessed with the death of a small child."
Article continues below advertisement
Article continues below advertisement
Oliva has also spent stints in stir for assaulting a 7-year-old in Oregon – and trying to strangle his mom with a telephone cord.
Shockingly, Oliva described for RadarOnline.com the "birthday parties" he throws each year for JonBenet and deceased Beastie Boys rapper Adam Yauch, whose birthday is one day before JonBenet's on Aug. 5.
"There's been a few ti9mes I rented a motel room on those days and constructed a huge shrine for both JonBenet and Adam Yauch and threw a huge party and got s—t face drunk.
"Just me and the ghost of JonBenet and Adam Yauch and probably no doubt Tom Joad and some others who may have shown up.
"We all like to listen to the Grateful Dead but we all love listening to Frank Zappa. Especially live in New York. Just me at the ghosts."
Investigators said they found tons of circumstantial evidence connecting Oliva to JonBenet's killing, including how he frequented a soup kitchen near the Ramsey home.
Article continues below advertisement
Four years after JonBenet's death, he was busted on the University of Colorado's campus carrying a stun gun – the same weapon police believe JonBenet's killer used to leave her helpless!
Most galling, the freak whined about his "sadistic hatred and treatment," in jail!
"I am currently in protective custody because of the death threats received on a daily basis," he told RadarOnline.com.
"Protective custody entails 23-hour lockdown and an officer escort any place I got in the jail or court.
"I get one hour a day to be in a room twice as big as my cell where I have access to a phone if I had someone to call and a shower."
Oliva even had nerve to complain he's getting treated worse than notorious cannibal serial killer Jeffrey Dahmer, who murdered and feasted upon 17 men and boys!
"I mean pardon my language, but what the f—k!?! And nobody is willing to help."
Oliva's sensational interview comes just as a new review of DNA evidence in JonBenet's case revealed at least TWO – and maybe even THREE – people could have been involved in the killing!
Shockingly, this new interpretation of the DNA evidence casts renewed doubt on District Attorney Mary Lacy's decision to exonerate JonBenet's father John and late-mother Patsy.
Meanwhile, Oliva rots in his cell, still formally uncharged with JonBenet's murder, creating, as he told RadarOnline.com, "shrines and other homage(s) in her honor!"
We pay for juicy info! Do you have a story for RadarOnline.com? Email us at tips@radaronline.com, or call us at (866) ON-RADAR (667-2327) any time, day or night.