Exclusive
Gymnast Gabby Douglas' Sad Childhood: Broke Single Mom Relied On Food Stamps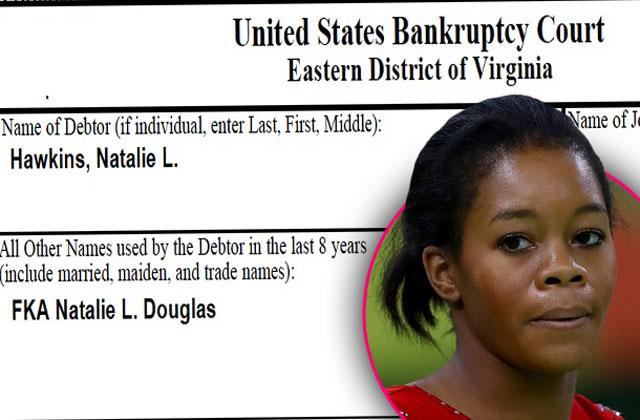 After Sunday's qualifying round, U.S. Women's Gymnastics Team member Gabby Douglas has been shut out of the all-around finals in Rio de Janeiro. But the two-time Olympian has dealt with tougher blows than this latest disappointment.
Just before the 20-year-old's 2012 debut in London, Douglas's mother, Natalie Hawkins, filed for bankruptcy twice in their native Virginia, RadarOnline.com has learned.
In U.S. District Court documents obtained exclusively by Radar, the single mother of four claimed she was nearly $90,000 in debt, and relied on food stamps to feed her family.
Article continues below advertisement
READ THE SHOCKING COURT DOCUMENTS
According to the February 2010 filing, Hawkins, 46, had just $1 in her checking account, but owed $74,485 in mortgage on the family's Virginia Beach home, $8,909 in student loans, and additional thousands in medical and credit card bills.
In addition to a meager income as a part-time collections specialist, Hawkins earned $1,600 in child support and $480 in food stamps.
Sadly, the trustee called for a dismissal of the case, because Hawkins fell behind on payments.
She filed for bankruptcy again two years later in January 2012, this time, claiming she was unemployed due to a disability.
Hawkins' money troubles continued into 2015, when she defaulted on monthly payments in a September 2012 bankruptcy order.
As of January 2016, the case is still ongoing.
Douglas last commented on her mother's financial woes in 2012, blaming the problems on her estranged father.
"It was hard for us growing up. My dad had left us, so he wasn't really in the picture anymore," she told The New York Post. "So, my mom had to front all these bills," she said. "My dad didn't really pay the child support. He was short on money. It was definitely hard on my mom, taking care of me and my siblings."