'Friends' Cast Reunites For NBC Special — Without Matthew Perry!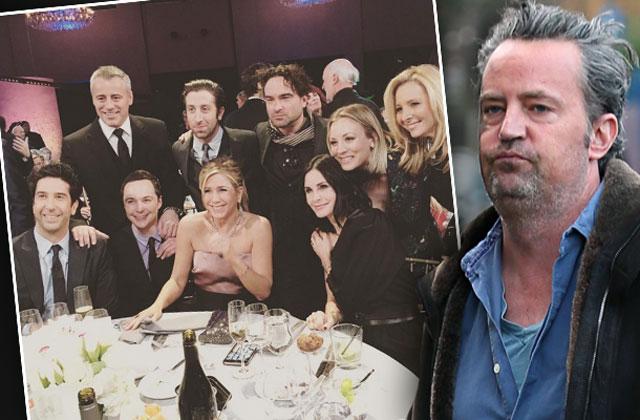 Friends fans will reel over the almost reunion that took place this weekend, after five of the six core cast members gathered together for NBC's special honoring of acclaimed director James Burrows.
Though Courteney Cox, Lisa Kudrow, Matt LeBlanc, David Schwimmer and even busy newlywed Jennifer Aniston attended the event, one costar was noticeably missing from the group — comedic actor Matthew Perry (aka Chandler Bing).
Article continues below advertisement
Because he's currently starring in the play The End of Longing over in the U.K., Perry was unable to make it for the special night, though sources say he plans to film a tribute separately from the group.
"Matthew may tape something for the tribute," his rep said in a statement. "In other words, this is not the reunion people have been hoping for."
A photo of the group was posted to Instagram, including the cast of The Big Bang Theory, who were also there to honor Burrows.
Leading up to the event, Friends co-creator Marta Kauffman told Us Weekly that she would also be in attendance Sunday night. "I will be there," she said, "but it is not a Friends reunion."
The two-hour special is set to air on NBC on February 21.
Will this start an epic feud between the former costars or is it all water under the bridge at this point? Sound off in the comments below!