Exclusive
Case Dismissed! Judge Trashes Bogus Donald Trump Rape Lawsuit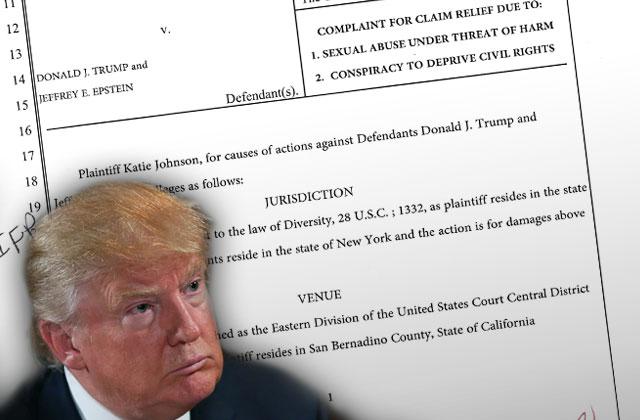 The $100 million rape lawsuit against Donald Trump has been dismissed, RadarOnline.com has learned.
A judge recommended on April 29 that "Katie Johnson" should have to pay her own attorneys' fees and court costs related to the $100 million lawsuit she brought against Trump and billionaire pedophile Jeffrey Epstein over alleged sexual assault charges. Then on May 2, a U.S. District judge ordered the entire lawsuit thrown out.
Article continues below advertisement
"Johnson" had previously filed forms asking to be let off the hook for the costs of the lawsuit, claiming she had only $300 to her name.
READ The Shocking Court Documents
However, such an allowance — known as in forma paupers — is only given in civil rights cases in California, and the judge ruled that she "failed to state a claim for relief" on a civil rights basis, even though she "utilized the form provided by the Central District of California for civil actions."
"Even construing the … pleading liberally, Plaintiff has not alleged any race-based or class-based animus against her, and consequently, her … allegations fail to state a claim upon which relief may be granted," the judge wrote.
And so the entire case is trashed.
As RadarOnline.com reported, former Trump aide Roger Stone told RadarOnline.com last week that the mysterious lawsuit "smacks of a political smear job."
The documents were filed in a California court on April 26, accusing Trump and billionaire pedophile Jeffrey Epstein of "sexual abuse under threat of harm" and "conspiracy to deprive her civil rights."
Article continues below advertisement
But the address listed on the paperwork leads to an abandoned property, and the phone number goes straight to voicemail.
Trump ripped apart Johnson's story as manufactured to destroy his political aspirations. "The allegations are not only categorically false, but disgusting at the highest level and clearly framed to solicit media attention or, perhaps, are simply politically motivated," he previously told RadarOnline.com. "There is absolutely no merit to these allegations. Period."