Courtney Stodden Copies Kim Kardashian's Sexy Nude Selfie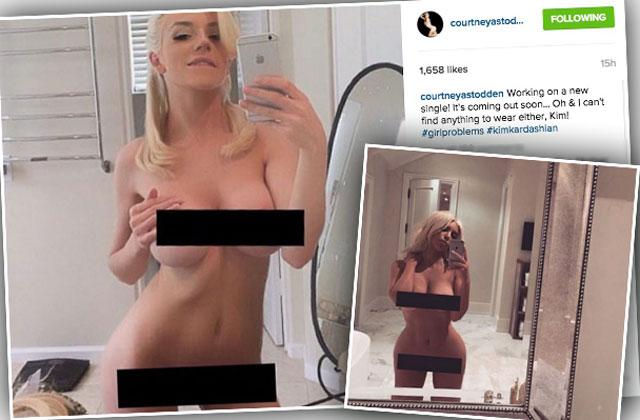 Imitation is the sincerest form of flattery — at least according to Courtney Stodden.
The 21-year-old model used Kim Kardashian's controversial nude selfie as inspiration, striking the very same pose in a sultry selfie of her own Tuesday evening.
"Working on a new single! It's coming out soon... Oh & I can't find anything to wear either, Kim!#girlproblems #kimkardashian," Stodden captioned the bathroom photo.
Article continues below advertisement
However, Courtney may soon regret her decision, as Kardashian's photo was less-than well received online.
As RadarOnline.com previously reported, a number of celebrities criticized the reality star's NSFW selfie posted to Instagram Monday morning, after which the 35-year-old launched a number of defensive tweets.
"I don't do drugs, I hardly drink, I've never committed a crime — and yet I'm a bad role model for being proud of my body?" Kardashian wrote in a post dedicated to International Women's Day on her website and app. "It always seems to come back around to my sex tape. Yes, a sex tape that was made 13 years ago. 13 YEARS AGO. Literally that lonnng ago. And people still want to talk about it ?!?!"
"I am empowered by my body. I am empowered by my sexuality. I am empowered by feeling comfortable in my skin," she went on. "It's 2016. The body-shaming and slut-shaming — it's like, enough is enough. I will not live my life dictated by the issues you have with my sexuality. You be you and let me be me."
What do you think of Courtney's copycat post? Let us know in the comments below!