Caught In A Lie! Kourtney Talked Caitlyn's Transition MONTHS Before It Actually Happened –– 'KUWTK' Fakery Exposed AGAIN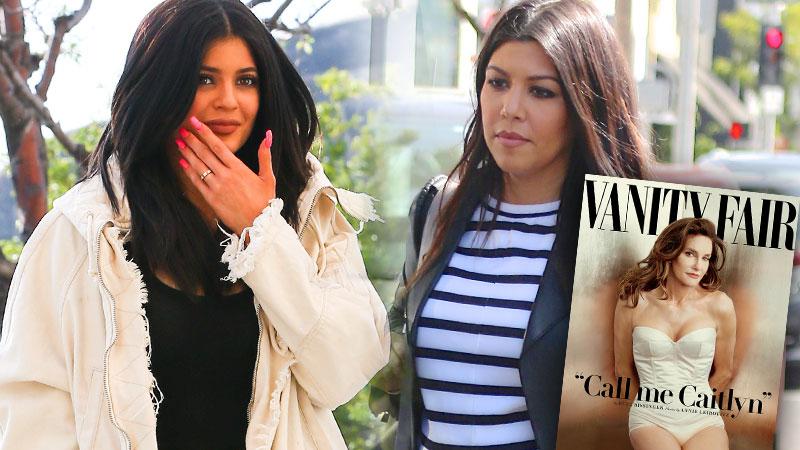 Nothing is real with the Kardashians -- not even details about Caitlyn Jenner's transition timeline.
While her daughters are cheerleading her sex change and supportive of her decision, the latest episode of Keeping Up With the Kardashians exposed another giant lie for the reality-challenged show.
Kourtney and Khloe Kardashian went to dinner with Kendall and Kylie Jenner on the episode that aired May 31, 2015, and during a discussion about therapy, Kourtney told the group that it is helpful for the fast-paced family that's often so busy they "can't think about what's happening sometimes."
Article continues below advertisement
According to the razor-sharp commentary at the Keeping Up with the Kontinuity Errors Tumblr page, this scene was shot on November 17, 2014 and Kourtney was photographed in the outfit heading to dinner in the outfit shown in the episode.
This was five months before Caitlyn went public with her transition news on April 24, 2015 when she revealed that she had the discussions with the girls about the sex change.
The E! show is notorious for televised trickery, from Kim and Kris Jenner discussing her decision to divorce Kris Humphries, to Kim telling her wedding guests that the person filming her wedding was a personal photographer and not the official show camera crew.
In Kourtney's confessional, the mother-of-three said she spoke about therapy for her sisters on November 17, 2014 -- because of Caitlyn's transition being so public. However, Caitlyn, who was still using the name Bruce Jenner and had not fully transitioned to a female, actually didn't speak to her daughters until January 19, 2015 to reveal the details of her transformation.
Now that Caitlyn has come forward with her story and her own reality show, it may be harder for 'KUTWK' to manipulate the truth.
What do you think about the reality show fakery? Sound off in comments below.