Bruce Bombshell! Jenner Wearing Long Dress In Shocking Photos Published By New York Newspaper –– Click For First Look!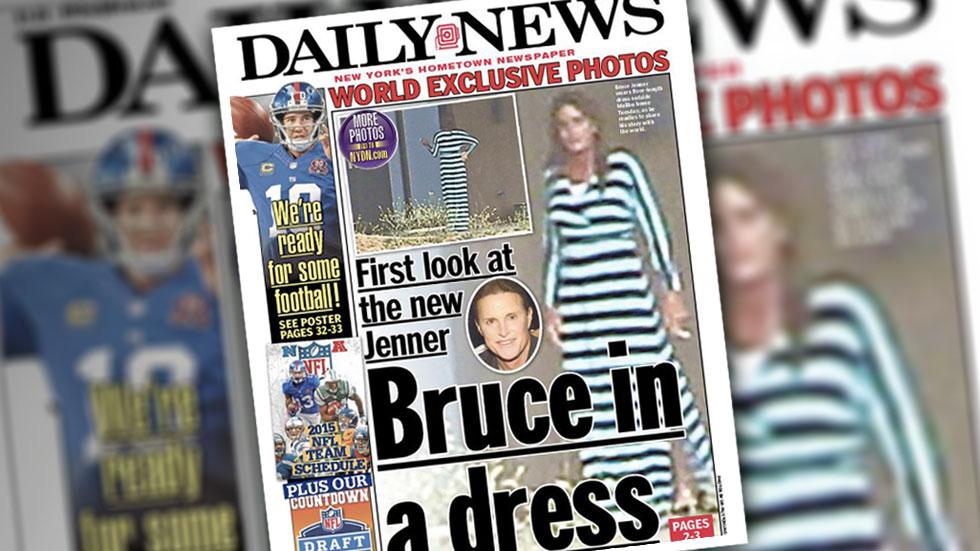 Bruce Jenner wore a striped black-and-white dress, and puffed a cigarette, in newly-published photos that prompted him to summon police to his Malibu home Tuesday.
With the reality star's tell-all interview with Diane Sawyer set to air Friday, the New York Daily News published photos of 65-year-old in the long garment on his patio Tuesday.
After Jenner summoned authorities, speculation swirled he could sue the newspaper, as well as the photographer who took the image, under California's invasion of privacy law.
Article continues below advertisement
As RadarOnline.com previously reported, Jenner -- on the heels of his breast implant surgery -- called the authorities after seeing paps, with high-powered cameras, to zoom in on him in his hilltop home.
"Mr. Jenner called because he was concerned and uncomfortable about the number of paparazzi at his home," Los Angeles County Sheriff's Department Lt. James Royal said. "We talked to Mr. Jenner and we talked to the paparazzi and we determined that there was no crime.
"Everything is OK. Two cars going up there is standard. They spoke to both Mr. Jenner and the paparazzi and then left."
Insiders told RadarOnline.com that Jenner "can't believe the gross invasion of his privacy that is taking place" as his sex change has become the talk of the country, and "finally had enough on Tuesday."
The Olympic gold medalist is set to open up about his male-to-female transition in Bruce Jenner: The Interview, airing on ABC's 20/20 Friday at 9/8c.
Watch: Bruce Jenner Talks About His Protecting Family in 20/20 Promo