Exclusive
Momager's Wrath: Kris Jenner & Rob Kardashian Got Into Huge On-Camera Fight Over Blac Chyna's Pregnancy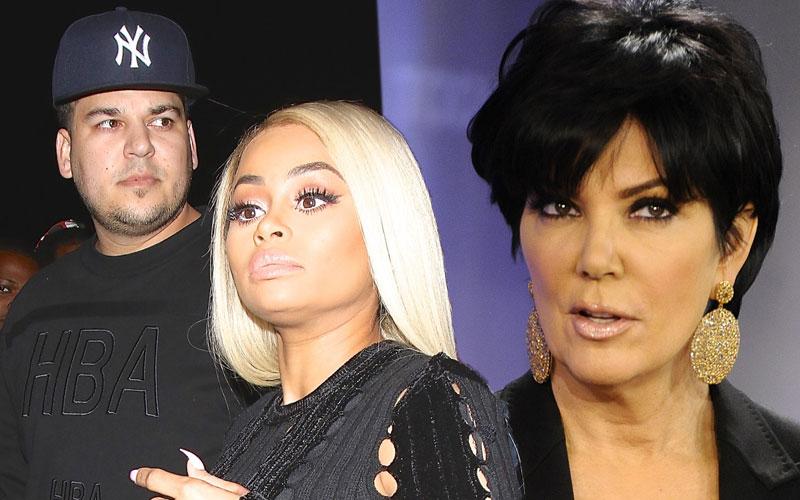 It may come as a shock to fans that Blac Chyna is pregnant with Rob Kardashian's baby, but the famous family knew all about the couple's longtime plans to conceive— and they weren't happy about it.
Rob and his overbearing momager, Kris Jenner, got into a blowout fight over his rush to be a dad, sources exclusively tell RadarOnline.com. And in typical Kardashian style, the whole chaotic scene was caught on camera!
Article continues below advertisement
Back in January, when Blac and Rob had only been dating for weeks, Kris and her only son "got into a huge argument while filming," a family insider tells Radar. "He confessed that he and Blac were trying for a baby, and Kris lost it."
Now, the momager's worst fears have become a shocking reality, and the entire family is furious.
Though Kris, Kylie, and even Kim have outwardly made peace with Blac, "they think she has an agenda," the source explains. "They think it's her life plan to have a baby with a rich man. She already did it once before."
However, as Radar has reported, Blac's baby daddy, Kylie's has-been rapper boyfriend Tyga, has been suffering from financial troubles. The parents to King Cairo, 3, were even forced to hold an estate sale for their former Woodland Hills home last week.
Now, the family is struggling to accept the romance that clearly won't be ending anytime soon.
"Blac and Rob have no chemistry whatsoever. She doesn't even seem to like him," the source reveals. "Kris and the girls know she's after one thing — the family fortune."