Aaron Hernandez' Prison Boyfriend Begs Cops: Give Me His Suicide Note!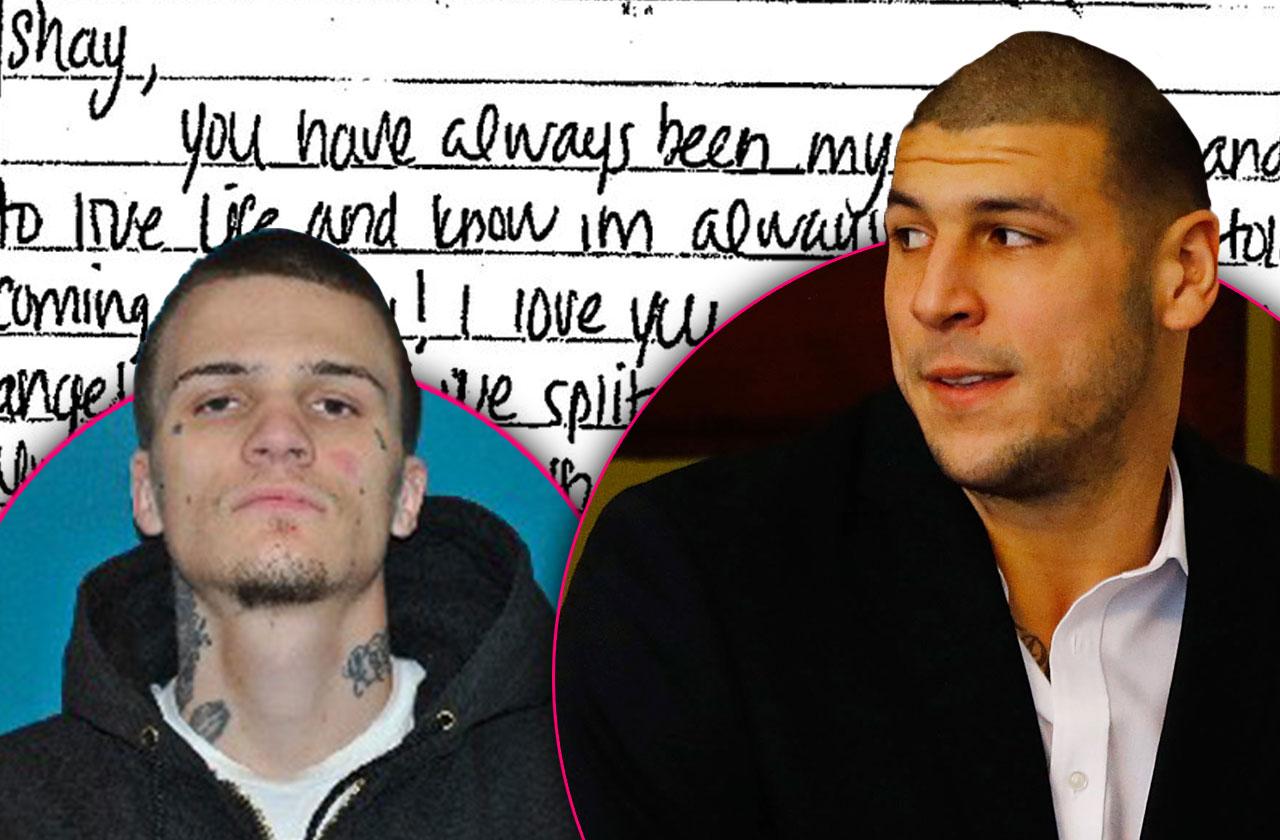 Aaron Hernandez' prison boyfriend is hitting back at charges that he was not in a relationship with the NFL star, and is begging to see the letter allegedly written to him before Hernandez' shocking suicide.
In a statement released to Radar, inmate Kyle Kennedy, claimed that he is still waiting to read the last words from the disgraced football star, with whom he had a "close relationship."
"I want to be clear that at no time have I seen a note addressed to me from my close friend Aaron Hernandez but I have reason to believe it was in fact intended for me," Kennedy, who was placed on suicide watch himself after Hernandez' death, explained.
Article continues below advertisement
"It was the press that first reported that this letter was sent to me and as a result, my attorney, Larry Army Jr., has repeatedly requested a copy for us to review."
Hernandez' fiancée said that she did not believe her baby daddy was gay, saying in an interview: " I had no indication or any feeling that he was.
"He was very much a man to me. I don't know where this came from," Shayanna Jenkins Hernandez told Dr. Phil. "It's embarrassing in a sense, it's hurtful. Regardless if it was true or not, it's just not something that I saw. It's not something I believe and it's not him."
But Kennedy insists that their relationship was the real thing, and that he deserves to be recognized.
"The story about who this letter was sent to has changed several times, but based upon the close relationship that I had with Aaron, it is highly likely that it was in fact intended for me. I again renew my request to have the letter released to my attorney so we can put this issue to rest."
Kennedy also declined to expand on details about the watch he claims Hernandez gifted him.
Article continues below advertisement
"In addition, my attorney has spoken at length about the watch that Aaron told me he was leaving to me as a gift. I have no further comment on that issue at this time. There has been a lot said about me and my personal life in recent weeks, some of it accurate and some of it not. I remain incarcerated at Souza-Baranowski Correctional Center in Shirley but at the appropriate time, I will address these issues and set the record straight."
Hernandez was cleared of the murder of Odin Lloyd following his death. Stay with Radar for updates to the story.
We pay for juicy info! Do you have a story for RadarOnline.com? Email us at tips@radaronline.com, or call us at 800-344-9598 any time, day or night.