You'll NEVER Guess Who Ricky Schroder Hooked Up With On The Set Of Silver Spoons!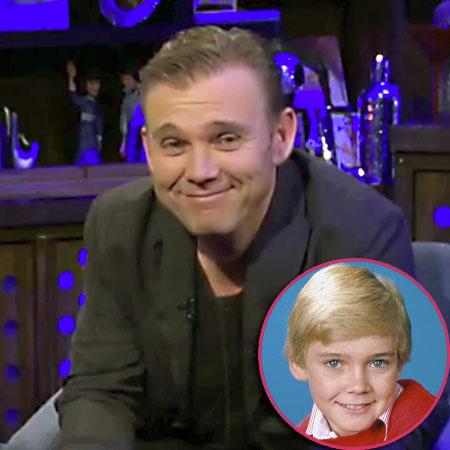 During an appearance on Tuesday's edition of Watch What Happens Live on Bravo, Rick "Ricky" Schroder managed to diss both the late actor Gary Coleman and former Charlie's Angels star Kate Jackson, while also making a surprising revelation about a famous person he once hooked up with on the set of his 80s sitcom Silver Spoons.
While playing a round of 'Plead The Fifth,' host Andy Cohen first asked Schroder, "In your opinion, who was the cockiest child star of your time?"
Article continues below advertisement
"Gary Coleman," Schroder, 42, responded without hardly missing a beat.
"A little attitude…" Cohen responded.
"God rest his soul," the show's other guest, Chelsea Handler, dryly added.
Cohen next told Schroder, "Name one female celebrity that we would be surprised to hear that you made out with."
"Whitney Houston," he responded.
"Is that true?" asked Cohen.
"True," Schroder said, adding, "She was on Silver Spoons. She was like 18. She was really hot then."
Schroder went on to explain that he was probably 15-years-old at the time and that Whitney was making a guest appearance on the show. He says they made out in her dressing room after the taping of one of the shows.
"Did it go anywhere from there?" Cohen inquired.
"One-time thing," Schroder responded. He also added that he never ran into Houston later on in her life.
"That's the best way it should happen… It's like a one-off," quipped Chelsea.
MORE ON:
Watch What Happens Live
Article continues below advertisement
For the third and final question, Cohen stated, "Name your least favorite co-star."
"It wasn't her fault, but Kate Jackson," he responded.
Schroder went on to explain she wouldn't even read her lines off camera to him, because she apparently didn't like him.
Fun fact: Schroder make his debut in the 1979 remake of the movie The Champ, winning the Golden Globe Award for Best New Male Star of the Year in a Motion Picture at the age of nine.
He was ranked #18 in VH1's list of the 100 Greatest Kid Stars and #33 in VH1's list of the 100 Greatest Teen Stars.
Watch What Happens Live airs Sundays through Thursdays at 11/10c on Bravo.